3 Barkhane soldiers seriously injured in Mali. Operations continue (Shift2)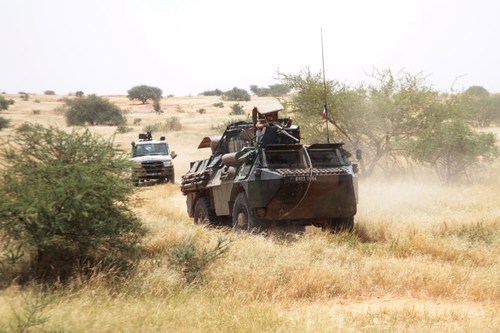 (B2) Three French special forces soldiers were injured in northern Mali on Tuesday (October 13) late afternoon. They were engaged in the French anti-terrorist operation in the Sahel "Barkhane". Their " vehicle hit a mine " indicates the press service of the armies. The three soldiers who were on board were seriously injured. They were evacuated to France overnight from Wednesday to Thursday ».
A waypoint control operation
We also learn that 40 French soldiers, with 210 soldiers from the FAMA (Malian Armed Forces) and 90 soldiers from the FAN (Nigerian Armed Forces), carried out during the first days of October an operation called Djiguifa, at the Malian and Nigerien border. Goal : " control passage areas likely to be used by armed terrorist groups". This operation " planned by the Nigerian and Malian armies " one specifies on the French side took place on a rather vast zone of action = " 11 700 m2 ". She was driven from the tri-partite command post deployed in the FAMa camp in Gao ».
(Updated 26.11.2015) An injured person who died
One of the wounded — Staff Sergeant Alexis Guarato who belonged to Air Paratrooper Commando No. 10 (CPA 10) — died on the night of Wednesday to Thursday (November 26) as a result of his injuries, in the military hospital where he had been repatriated. "I have deep respect for the sacrifice of this Special Forces NCO" said in a press release, François Hollande. " French soldiers, engaged alongside the Malian army and United Nations forces, are carrying out this mission with courage and efficiency to consolidate Mali's sovereignty and fight against terrorist groups.". The Minister of Defence, Jean-Yves le Drian, hailed " courageous commitment throughout his career of the military and joins in the pain of his family and his brothers in arms ". Staff Sergeant Alexis Guarato had joined the special forces in 2007 and participated in operations in Afghanistan, Côte d'Ivoire, Burkina Faso and Mali.
(NGV)