A group of pirates dismantled near the Somali coast
(BRUSSELS2) The French anti-submarine frigate De Grasse dismantled, on September 17, a pirate group made up of six boats near the Somali coast, we learned from the HQ of Atalanta, the European anti-piracy operation in the 'Indian Ocean. He thus prevented him from joining the high seas to go and attack merchant ships.
It was the day before (Thursday), during a patrol along the Somali coast (coming up from Mombasa) that the helicopter of the De Grasse, flagship of the European fleet "EUNAVFOR Atlanta", had located a group of suspicious boats on the beach, loaded with all the paraphernalia of the perfect pirate (ladders, fuel tanks…), ready to leave. This camp was not part of the camps already identified, it is specified on the side of the French navy. The group was tracked by radar. And the next morning, the helicopter from De Grasse took to the air again and spotted this same group at sea, made up of several skiffs and a whaler, acting as a mother ship.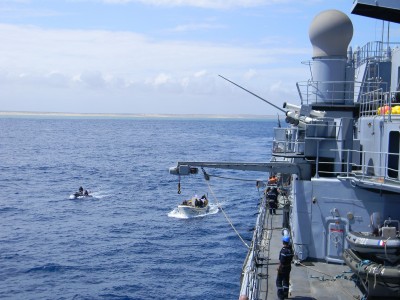 A first skiff was quickly boarded by the Grasse boarding party and sent back to shore, after seizing the pirate gear. The De Grasse then proceeded at maximum speed to a second position provided by the helicopter to intercept the whaler. Meanwhile the boarding party boarded two other skiffs, one of which was returned with the occupants to the beach.
A total of 12 "suspected" pirates and four boats (three skiffs and a whaler) were intercepted, 2 boats (whaler and 1 skiff) destroyed. 2 other skiffs were able to flee. Like "none of the captured pirates committed any flagrant act of piracy", we say at Atalanta HQ, "it was not possible to proceed with a prosecution on the basis of international law". However, "all material that could have been used for an attack has been seized".
Disarmed pirates in the Gulf of Aden
Also note
Thursday (16), theUSS Kauffman, an American ship member of NATO's "Ocean Shield" force, foiled a pirate attack in the Gulf of Aden. The USS Kauffman helicopter had located a suspicious skiff with 5 pirates on board. With the support ofEndurance, a Singapore ship member of CTF151, the pirates were disarmed and left at large.
On Wednesday (15), the Indian navy reports having disarmed a pirate ship. It was during an escort of six merchant ships in the Gulf of Aden International Corridor that INS Delhi detected a dhow approaching the formation at high speed. "It was intercepted and a team of marine commandos boarded the suspect boat, finding a weapons cache on board, containing 6 RPGs, 1 7.62mm rifle and ammunition." The dhow was laid up. And its occupants liberated. This is the fourth intervention of the Indian Navy (the others having taken place on September 5, 12 and 13).
(Nicolas Gros-Verheyde)