The European Defense Manual (PSDC)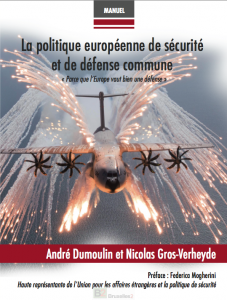 To understand everything about Defense Europe, there is finally a solution. A comprehensive handbook on the "Common European Security and Defense Policy".
A real "bible" on European defense
There was no up-to-date work in French covering all the questions on the Europe of defence.
Five parts, 25 chapters, 1500 references
25 chapters covering the history, institutions, tools, missions in the field and the future of this defense policy. Its failures, upheavals and advances. All supported by the texts, and embellished with perspectives, anecdotes, comments drawn from the best sources (ministers, heads of state or government, diplomats, etc.). An uncompromising balance sheet. Nearly 1500 notes and references. A real "bible" on European defence.
Concrete answers
Why has WEU (Western European Union) never managed to take off? How did the mutual defense (assistance) clause come about? How does the enigmatic COPS (Political and Security Committee) work? How did Javier Solana manage to make his "hole"? What is Catherine Ashton's 'true' track record or how Federica Mogherini was named? What are the battle groups. When could they have been deployed? Why was this not the case? What are the criteria for permanent structured cooperation? What will the new MPCC, the mini permanent military HQ, be used for? What are the real consequences of Brexit? Are the British necessary for the Europe of defence? Is the future a defense that is a little more shared?
A still unknown policy
What is called 'Defence Europe' still remains a no man's land, full of fantasies and misunderstandings. Born in the Balkans, this European policy, which became common by 'accident', has evolved in fits and starts. Some dream of it as a "European army" or an alternative to NATO. Others vilify its weakness or its slowness. The ESDP, which has become CSDP, has neither these ambitions nor these shortcomings. On the contrary ! It has advantages that are not well known. This is what this book is all about: knowing how Defense Europe really works.
A four-handed work
Written by an academic and a journalist, who combined their common expertise: André Dumoulin (lecturer at the University of Liège and professor at the Belgian Royal Military Institute) and Nicolas Gros-Verheyde (editor-in-chief of B2, former auditor at IHEDN, Sud-Ouest correspondent for the EU and NATO). The first brings the historical distance to understand, the second gives a highlighting of the news.
Combine paper and electronics
It's not just a book you'll have in your hand. Online media, B2 Bruxelles2 has sought to innovate by mixing paper (essential for the overview) and electronics (necessary to be kept up to date). To follow everything in real life, nothing beats this B2 Pro. For a synthetic view, see our electronic bible on geopolitical Europe, the Quezako (accessible to B2 members). Finally an update, addendum to the book (in PDF form) is published approximately every two years.
Size 14,8 x 21 cm. 492 pages. ISBN: 9782956001300. French release: April 12, 2017.
To order the book
For updates:
Learn more - Download: