[News] Sagittarius, Eva Sierra…! Several rotations ensured by the Europeans. About 1500 people evacuated (v8)
(B2) The evacuation operation of Sudan, diplomats and citizens, allowed the evacuation of nearly 1500 nationals, of all nationalities, Europeans first, but also Africans, Asians, Americans and allies. Coordination and solidarity played out. France opened the ball followed by the Germans. On the British side, it took longer...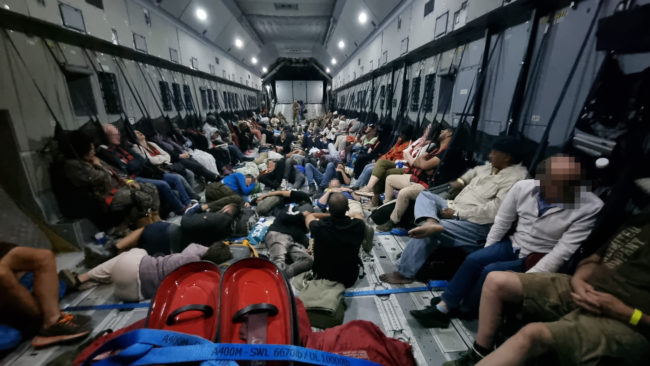 This article was created and restructured (for ease of reading) from l'article published on Sunday (April 23) and updated several times as news arises.
Three decisive elements
This operation (Sagittaire for the French, Eva Sierra for the Spaniards) was facilitated by three concrete elements. Firstly, the Djibouti rear base – the French BA 188, like the Spanish or Japanese support points – where planes and forces were prepositioned, facilitated the work. If some did not use Djibouti, it is for practical reasons: they had elements in Jordan but for lack of space on the Djiboutian tarmac. The second key and decisive element is the role played by the French forces (read: [News] Evacuation of diplomats and citizens in Sudan, a Land Air Sea operation is being prepared). The postman " first entry – negotiated upstream with the belligerents, carried out on the ground by the military (special forces as well as logisticians), was a major asset and the essential condition of this operation. The third and last element is the permanent coordination which took place both at the strategic level (between capitals) and at the operational level (in particular the coordination cell placed in Djibouti) and at the tactical level (on the spot at Wadi Sayyidna airport ). Both to coordinate the arrivals and take-offs of planes and to distribute the different nationals (EU and non-EU) to pick up and escort. The objective: to make maximum use of the airport's single runway without incident, day and night (see also: [News] Sagittarius! How was the French evacuation operation in Sudan prepared and planned?).
According to a report drawn up by the High Representative of the EU on Monday (April 24), the European noria - 11 flights on Sunday and 20 others planned for Monday, i.e. 31 rotations in total - has made it possible to secure "at least 1200 people from all nationalities", with "400 people remaining to be evacuated", i.e. more than 1500 people in total in complex and difficult conditions.
Five French rotations
Concretely, a first French plane left Khartoum on Sunday (April 23) afternoon and landed in Djibouti around 18 p.m. (Paris time). On board, 88 evacuees. Another plane on area » took off at the end of the afternoon. With a hundred other nationals. Two other planes managed to take off overnight from Sunday to Monday, bringing the total number of evacuees to 491 people, including 196 French people, according to a situation update sent to B2 on Monday at 15 p.m. A fifth and last French plane that left during the day on Monday, made it possible to evacuate the last remaining on the tricolor list, bringing the total to 538 people, including 209 French, according to the Quai d'Orsay. More than 300 nationals were therefore evacuated (representing 39 other nationalities).
European "consular protection" played to the full
All European nationals who so wished were able to be evacuated. Thus nearly 300 nationals of other nationalities were evacuated by the French, including nationals of twelve EU Member States (Germans, Austrians, Belgians, 13 Danes, Finns, Greeks, Hungarians, 36 Irish, Italians, Portuguese, 9 Romanians (2), 21 Swedes). The Poles were able to benefit from French assistance in the Sudanese capital as far as the airport before being evacuated by Spanish and German planes.
Three injured treated
Among the returnees, three wounded, including two Greek wounded, as confirmed by Greek Foreign Minister Nikos Dendias, and a Belgian wounded from the EU delegation, the head of ECHO, the European office for 'humanitarian aid.
Other nationalities evacuated
Among the other nationalities (24 in all) supported by the French: Americans (USA), British, other European countries (Iceland, Moldova, Switzerland), Africans (South Africa, Burundi, Ethiopia, Lesotho, Morocco , Namibia, Niger, Uganda, Rwanda, Senegal, Sudan, Togo, Chad) or Asia (Australia, India, Japan, South Korea, New Zealand, Philippines).
Other European flight rotations
Several European countries (Germany, Spain, Italy, Netherlands, Sweden) followed the path opened by the French. Germany even taking over control of the airport after the departure of the French.
Germany ensures continuous rotations
Two German planes, coming from Jordan, were first able to repatriate more than 200 nationals from Sunday afternoon (April 23) - 101 in the first flight, 113 in the second - to Al Azrak. " Our goal is to get as many German nationals out of Khartoum as possible. Within our possibilities, we will also take Europeans and other nationals with us » says German defence.
A third plane that arrived in Khartoum on Sunday (1) left overnight for Jordan with 97 people on board, bringing the total number of Luftwaffe evacuees to 311, according to the german operations command.
Two more rotations take place on Monday (April 24). A rotation takes place on Tuesday (April 25) with 30 people on board indicated the German command. A flight, landed in the night of Tuesday to Wednesday (April 26) in Jordan, made it possible to shelter 78 people. And a final flight repatriated 65 people.
In all, the German planes evacuated 780 people including 240 nationals », and 40 different nationalities, depending on the final assessment given by the Bundeswehr. Germany has announced Wednesday (April 26) evening, close its operation and have repatriated all its personnel from the forward operating base (FOB) in Khartoum.
Dutch rotations
During the first flight of two C-130s, the Dutch brought men and equipment, in particular special forces (marine riflemen), a medical team from Defense, rapid consular support teams (SCOT) from Foreign Affairs as well as a team of the Special Security Missions Brigade of the Maréchaussée (gendarmerie).
Six C-130 rotations to Aqaba, the Dutch forward base, then took place: three on Monday (April 24) (the first with 32 people including 15 Dutch, (3at), two on Tuesday (April 25). In all, 70 Dutch repatriated (and 80 others by flights from other countries) as well as 100 people of 18 other nationalities precise Wopke Hoekstra, Minister of Foreign Affairs, from The Hague.
Two Italian planes
Two Italian C-130s (with special forces and carabinieri on board) followed the same route to Djibouti. " All the Italians who wanted it are now in a safe place "announced Sunday evening the Minister of Defense Guido Crosetto.
A Spanish plane
A Spanish A400M aircraft ensured the rotation on Djibouti announcement Spanish Foreign Minister José Albares late Sunday evening (April 23). On board, 34 Spanish nationals and 38 other nationals of 11 different nationalities (NB: Europeans and Latin Americans), depending on the ministry.
land convoy and evacuation by sea
A UN convoy left Khartoum with nearly 1700 people arrived in Port Sudan after a good day and a half of travel.
The French frigate Lorraine (D-657), based in Djibouti, moved to provide assistance. It allowed the evacuation during the night of April 25 to 26 to Jeddah 398 people, of more than 50 nationalities (including Americans, British, Canadians, Ethiopians, Germans, Dutch, Italians and Swedes and 5 French, according to the Quai d'Orsay).
On May 5, the Spanish frigate, normally dedicated to the European maritime security operation EUNAVFOR Atalanta, was diverted from its mission and arrived in Port Sudan, making it possible to bring 162 people to safety.
Final balance sheet
In all, 2500 people were evacuated by the European joint operation, indicates the High Representative of the EU, Josep Borrell via Twitter the 5 may.
(Nicolas Gros-Verheyde)
Read also:
For Germany, read also on Augergeradeaus « Bundeswehr begins Evakuierungsmission im Sudan (Neufassung) ". Unlike the French, there was no collective convoy. As T. Wiegold specifies, German citizens were invited to go to this airfield by their own means " independently and at your own risk ».
As the confirmed Minister Bogdan Aurescu.
A C-130 has a payload capacity more than half that of an A400M (which can carry a good hundred people)
Updates - Sunday April 23, 18 p.m., German report, 20 p.m. details on the resources committed on the French side + photos; 22 p.m. Spanish balance sheet; 23:50 p.m. Italian and Greek report; Monday 24 April, 9 a.m., third German plane, (12 p.m.-14 p.m.) other European and African nationalities, 18 p.m. report High Representative; Tuesday April 25, update of the various figures; Wednesday April 26, 12 noon, German rotations, May 15 - maritime evacuations.