(B2) In Bosnia and Herzegovina, a return to a dark page in European history.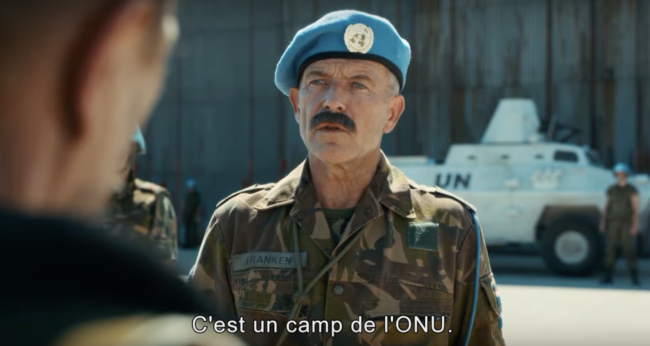 We are in Srebrenica, in July 1995. The Blue Helmets, Dutch, see their camp overwhelmed by inhabitants who come to seek refuge there by the thousands, terrified by the imminent arrival of the Serbian army. A dark moment in European history, where the political cowardice of the moment, hesitations, and the desire for human solidarity mingle.
The Blue Helmets are beginning to welcome a few thousand people. But, quickly overwhelmed, they leave the majority of the others outside the gates of the camp. Surrounded by the Serbs they will not fire a shot to defend the civilian population. Worse, the generosity of the start gives way to cowardice.
Colonel Franken, who commands the base, issues the alert: " You will be responsible if the Serbs return to town we need help, there are 25 people here ". But he is literally dropped by the UN command, as well as by his national country (the Netherlands). His repeated cries for help remain unanswered.
Aida, the translator hired by the Blue Helmets, a former English teacher, tries to save her sons from deportation (and death). The executioners, she knows them, they are neighbors, former students. All the complexity of this war, which opposes populations who have lived together for a long time, is woven.
Gradually fatigue, confusion of meaning win. The main human landmarks fade away. Executions outside the camp leave peacekeepers speechless. Dutch soldiers even find themselves helping the Serbian militias of Mladic to sort out the men and women.
This film, in its accuracy, reflects this weakening of the will, of humanity, in a corner of Bosnia-Herzegovina, abandoned by the great powers. A moment of collective and individual weakness that must remain etched in our memories. A film that should be screened in all schools of war and international relations.
(Nicolas Gros-Verheyde)
Read also on the subject:The partial responsibility of the Netherlands in Srebrenica: a partial judgment" Sylvie Matton, New Observer