To read on B2 Pro this week (June 27 to July 2, 2022)
(B2) NATO Defence, Madrid Summit, Food Security, Aeronautics… A selection of articles of the week not to be missed on B2 Pro in a few lines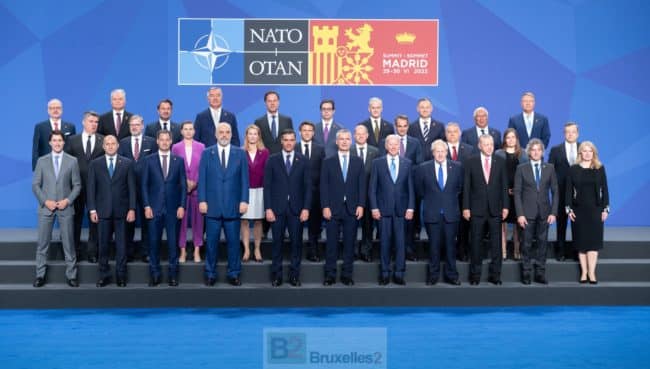 [News] Madrid Summit from June 28 to 30
The strategic concept of the allies dating from 2010 has a new look!
The return of the war on the European continent, the Russian aggression and the expansion of China lead to a modification of the strategy of the Allies. What are the key points? The new strategic concept of the Alliance version 2022 is tougher on Russia and more extensive on threats
A trilateral agreement in extremis
Turkish President Recep Tayyip Erdoğan, Swedish Prime Minister Magdalena Andersson and Finnish President Sauli Niinistö have finally found common ground to join the Alliance. But at what cost ?
The Allies strengthen their defense capacity
Meeting at the summit in Madrid, the 30 agree to significantly strengthen their defense and rapid reaction capacity. What are the new features? Read : Faced with Russia, NATO is beefing up its defense: more reactive, more massive
[Analysis] Defense budgets, still increasing
According to initial NATO estimates, the Allies will continue to invest in their defense in 2022. An initial assessment of the impact of the war in Ukraine? Read : Capital spending on the rise in 2022. Ten countries above 2%
[News] Loss of speed for Swedish aeronautics in Europe
With the resurgence of tension in Eastern Europe, the Czech Air Force is getting a makeover. Prague is considering abandoning its long-time supplier, Sweden's Saab. Who will replace him ? Read : The Czech Republic would like to equip itself with 24 F-35 aircraft made in the US
[News] The Council of Europe creates a structure for the defense industry
The ambassadors of the 27 approve on Wednesday (June 29) the establishment of an ad hoc group. What will be its objectives?
[Verbatim] Zambia wants to establish itself as a food player
The current President of Zambia, Hakainde Hichilema, reiterates before the European Parliament his accountability to Europe. He strongly condemns the war in Ukraine, and its consequences. But without mentioning Russia. Read : Zambia, a partner for peace and food security in Africa
For you subscribe and join Club B2 Pro