The Russian attack on several fronts in one map
(B2) A map released by British intelligence illustrates the tactics followed by the Russians.
Four groups are in action: the South group aims to secure the Donbass, while another part of the South group with parachute troops launches an assault on Kherson and probably Odessa, from Crimea. The Center group has penetrated via Belarus and is moving on both sides of the Dnieper (right bank and left bank) to reach Kiev, while the Western group is targeting Kharkiv.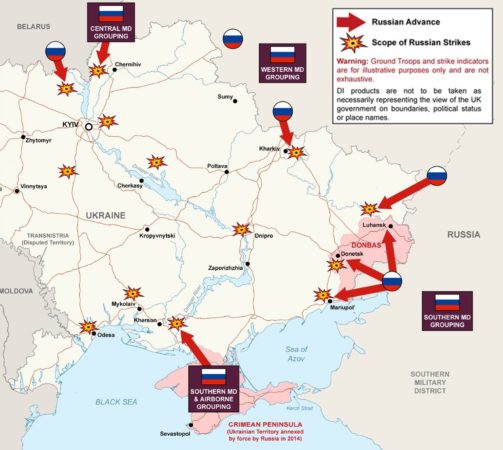 At least 57 Ukrainians (civilian and military) were killed during this first day of offensive and 169 were injured according to the Minister of Health, Victor Lyashko, quoted by the Kyiv Independent.
(NGV)
Read also: