The French FAZSOI will train Mozambican soldiers. On tip-toes
(B2) The French will eventually participate in the EU military training mission in Mozambique (EUTM Mozambique) led by the Portuguese. But not before summer. And punctually. A commitment on tiptoe, which contrasts with the vibrating official declarations on the Europe of defence.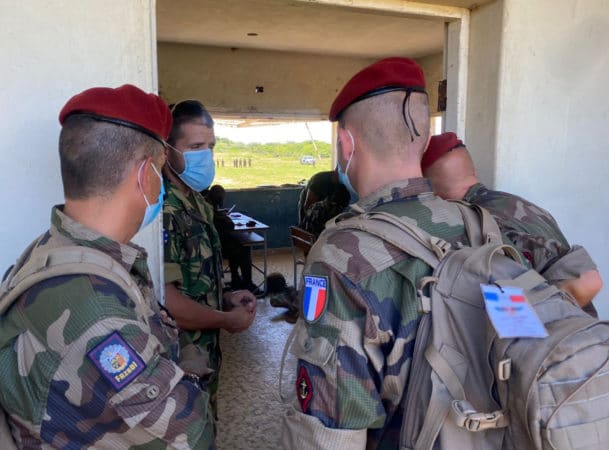 Elements of the FAZSOI in recognition
The soldiers of the 2nd Marine Infantry Parachute Regiment (RPIMa) have just carried out a " reconnaissance mission in Mozambique between January 6 and 12. Stated objective: contribute to the European effort ", according to the staff of the armies, but also to take stock of " the cooperation actions carried out by the French on a bilateral basis. During its presence on Mozambican soil, the 2nd RPIMa delegation, led by a lieutenant-colonel, was able to visit the Catembe training camp, one of the two EUTM training sites (where the Mozambican marines).
An operational training detachment, soon
Assessment of this recognition: positive. " In the coming months ", the 2e RPIMa — based in Saint Pierre de La Réunion (within the FAZSOI, the armed forces of the southern zone of the Indian Ocean) — will set up what is called at the French level a "operational training detachment" (or DIO) for the benefit of the Mozambican armed forces, to provide its know-how in four areas: " logistics, health, maintenance and support ».
No contribution
It would be time! The EUTM mission was officially launched in November (read: EUTM Mozambique mission launched). And without France. It relies essentially on Portugal, which provides a good part of the personnel and the head of mission. It has around ten contributing countries, from Lithuania to Belgium, via Greece and Spain. After having procrastinated a little, Paris had indeed decided not to participate, preferring to provide, piecemeal, certain formations, according to needs. This was also the main purpose of the visit of the 2nd RPIMA on site.
First jump this summer
A priori, according to our information, the French detachment could come in the second part of the training, in the summer, especially on the logistical aspect. " Planning is underway ". It will happen" depending on the demand and needs of EUTM, on an ad hoc [and therefore] non-permanent basis an officer told B2.
A possible maritime component
This commitment could also be accompanied by a maritime component. Or on a bilateral basis, as has already been done in the past. On September 26, the high seas patrol vessel Malignant (P-701), had embarked nine officers of the Mozambican navy, for two days of navigation, to Maputo. Either on a European basis, as part of the reconfiguration of the Atalanta operation and the coordinated maritime presences, if the decision is taken, to descend as low in the Indian Ocean (Read our complete analysis, on B2 Pro: Indo but not the Pacific. Europe revises its maritime ambition downwards).
(Nicolas Gros-Verheyde, with Helen Chachaty in Paris)
Read also:
And our file: