The air embargo against Mali not respected by Air France, Turkey and Ethiopian Airlines
(B2) Despite the closure of airspace decreed by ECOWAS, the Economic Community of West African States, against Mali, and certain official declarations, the French company Air France continues to fly to Bamako.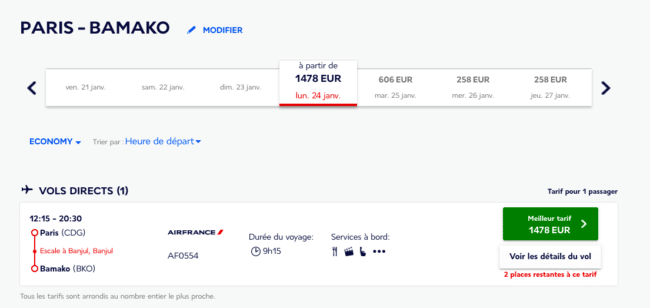 It is therefore still possible to take places for the week of January 24 (*). Of course the flight can always be cancelled. But by making reservation possible, the signal is disastrous. The company continues to provide direct flights or from Monrovia (Liberia) or Banjul (Gambia). Two countries that are members of ECOWAS!
As for the Turkish companies Turkish Airlines and Ethiopian Ethiopian Airlines, which are among the main ones to serve Bamako, they continue to serve the Malian capital, from their respective hubs (Istanbul or Addis Ababa), or even from certain African cities.
The Europeans, however, affirmed during their informal ministerial meeting (Gymnich), this Friday (January 14) in Brest, a " full support » to the measures taken by ECOWAS (read: Europeans bothered by ECOWAS sanctions against Mali). Apparently, they are difficult to come into practice.
(Nicolas Gros-Verheyde)
(*) In the first version of the article published on Saturday, the Air France reservation system only gave the possibility of taking seats in class business, with a significant price of more than 3000 euros one way. A search carried out the next day had brought the fares down, bringing them back to normal, or even below the competitors for a departure in the days following January 24.
Updated Sunday 16.1 4h with new Air France fares