A Portuguese in command of Atalanta off Somalia. With limited means
(B2) Portuguese Commodore João Paulo Silva Pereira took command of the EU maritime force deployed off Somalia (EUNAVFOR Atalanta) in mid-January.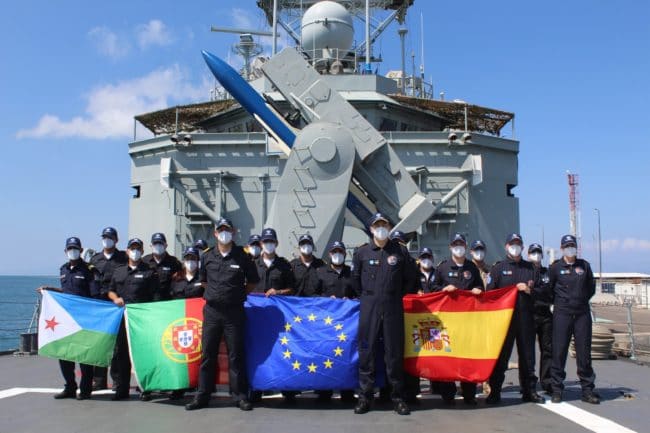 On board a Spanish frigate
The Portuguese has been officially Force Commander since January 12, 2022 for two months. He actually took office on Friday (January 14). He does not operate on board a Portuguese ship. But of a Spanish frigate, the ESPS Victoria (F-82), which serves as its flagship. A regular in the area. He is supported by a small staff (FHQ) made up of around twenty other sailors, mainly Portuguese (five) and Spanish. The Operation Command (OHQ) is located in Rota (Spain), headed by Vice Admiral José M. Nunze Torrente.
This is the Force Commander's 39th rotation since the start of the operation in December 2008. The previous Force Commander, rear admiral Spaniard Alejandro Cuerda Lorenzo, on December 14, handed over the Force Commander temporarily to the Operation Commander.
A former Corte Real officer
Aged 54, Silva Pereira is an experienced officer. Entered the Marinha (the Portuguese Navy) in 1986, he commanded the frigate Corte Real (F-332) between 2010 and 2012. The first Portuguese ship engaged in 2011 in the anti-piracy operation in 2011 as part of the NATO operation Ocean Shield.
An operation with limited means
The means of the operation are currently limited and provided mainly by Spain, which has supported this operation at arm's length since its beginnings (2008). Madrid thus provides the flagship (and the only ship), equipped with an Agusta Bell AB212 type helicopter (or two depending on the moment), as well as a Scan Eagle type drone, and a P3 Orion maritime patrol aircraft based in Djibouti. Abandoned by other countries. All other countries have withdrawn. Germany has no more maritime patrol aircraft to offer. France only contributes when it has the time (often through its resources based in Reunion). Greece and Sweden have other concerns in their respective waters and so on.
The abrupt end of Atalanta I, while waiting for Atalanta II?
He could be the last force commander of the operation. At least in its current format. The United Nations Security Council has indeed failed to renew the executive mandate of the operation for only three months, until March 3, 2022. Somalia having refused to give its authorization for the first time since 2008. Unless there is an agreement with Mogadishu or an international decision, European ships will be prohibited from entering territorial waters. But the Europeans are already working for an Atalanta II operation, which will have a wider scope and will have to be revived, within the framework of coordinated maritime presences (read our upcoming article on B2 pro).
(Nicolas Gros-Verheyde)