Latest news from EU peacekeeping missions and operations – CSDP (October 2021)
(B2) EU missions and operations, civilian and military, have one thing in common: they do not work alone. What seems obvious, however, deserves to be underlined. The news of this month of October offers the opportunity to identify its multiple aspects, and to observe the first steps of the new kid: EUTM Mozambique…
Moldova. Joint Anti-Crime Operation
Our mission for assistance in surveillance at the borders of Moldova (EUBAM Moldova Ukraine) participated in the operation against serious crime on the eastern border. The operation piloted by the European coast and border guard agency Frontex and Romania took place from September 27 to October 8. Thirteen countries and six other European agencies and international organizations participated. The harvest of the Joint Action Day Finestra, is up to it: 36 million contraband cigarettes, 160.000 liters of alcohol, or even 32 human traffickers. Details here
Baghdad (Iraq). Election day mobilization
On Sunday 10 October, the Internal Security Advisory Mission (EUAM Iraq) was at the Supreme Electoral Operations Center. This is responsible for reacting in the event of security incidents linked to the legislative elections organized that day throughout the country. The mission had to be able to intervene with its advice and expertise, " as required ". The Mission also provided close protection for teams of local observers from the EU Delegation traveling to the polling stations in the capital. Details here
Kyiv (Ukraine). Prosecutors in training
Improve their leadership and staff management. This is the challenge of the training that a hundred Ukrainian prosecutors follow until December. With the support of the Ukrainian Security Forces Advisory Mission (EUAM Ukraine). " The aim is to increase the efficiency of the prosecution service, to stimulate the interest of professionals in career development and to increase the motivation of staff. ". Details here
Somalia. The relay is taken in the maritime control
« Somalia has the longest inland African continental coastline and the establishment of the Somali Maritime Administration (SMA) has enabled Somalis to assume responsibility for the control and surveillance of Somali territorial waters ", rejoices its director, Captain Hassan M Farah. The SMA is a department of the Ministry of Ports and Maritime Transport, established with the support of the Maritime Security Capability Support Mission (EUCAP Somalia) two years ago. Details here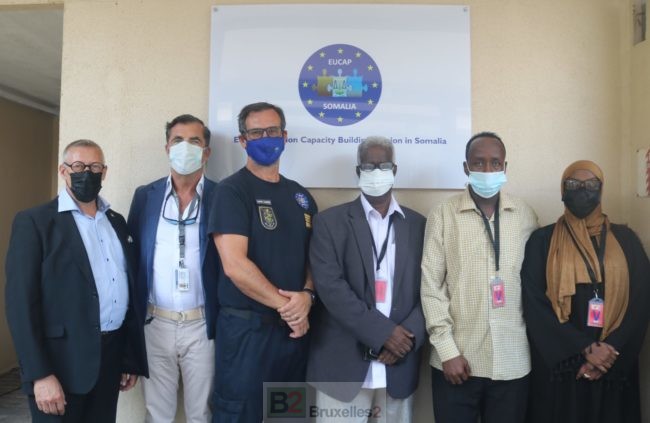 Ramallah (West Bank). Reinforced expertise
The Police Mission Mission in the Palestinian Territories (EUPOL COPPS) is in the process of recruiting police advisers " very experienced to strengthen its support for the Palestinian Civil Police (PCP), particularly in cybercrime. This was explained by the Head of Mission Nataliya Apostolova to the head of the PCP, General Yousif Helo, who came to the premises of EUPOL. Details here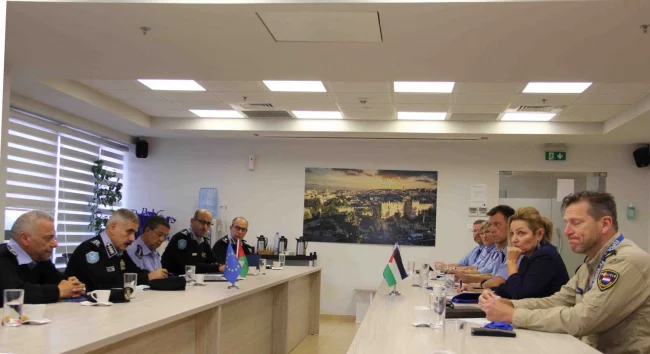 Bangui (Central Africa). first birthday
The revision of the organic laws of the Police and the Gendarmerie is " an example of successful cooperation ", to the credit of the first year of activity of the civilian advisory mission of the European Union (EUAM RCA), explains its head Paulo Soares. Details here
Horn of Africa. The outlines of a new collaboration
EUNAVFOR Atalanta Operation and Force Commanders got to know the Head of the new EU Training Mission in Mozambique (EUTM Mozambique). Their first virtual meeting has already studied the " possible synergies in the greater region of Cabo Delgado and the Mozambique Channel ", on the southern border of the area where Atalanta operates. Details here
Pristina (Kosovo). Goals for the climate!
The staff of the mission on the rule of law know how to use arguments other than those of law. She demonstrated this during a necessarily friendly football match with a team from the Pristina prosecutor's office. No one gives the score. It seems that " the number of goals scored is not important ". The aim was to get people talking about climate change. Slideshow here
Mtskheta (Georgia). To gain height
The head of the EU observation mission in Georgia, Marek Szczygieł, takes you on patrol with the field office monitors in Mtskheta, in the east of the country, in the Caucasus mountains. Intimidating !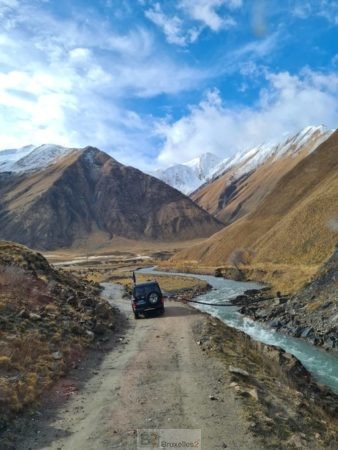 (information collected by Emmanuelle Stroesser)
NB: To know everything or review, do not hesitate to obtain our book on CSDP
Read also on the B2 Pro (published in October):
And on the blog: