The US is stepping up the evacuation movement from Kabul. The deadline of August 31 will be respected
(B2) General Stephen R. Lyons, Chief of the US Air Transport Command (TRANSCOM) recently gave a briefing on the Kabul evacuation operation, interesting on several aspects. Excerpts…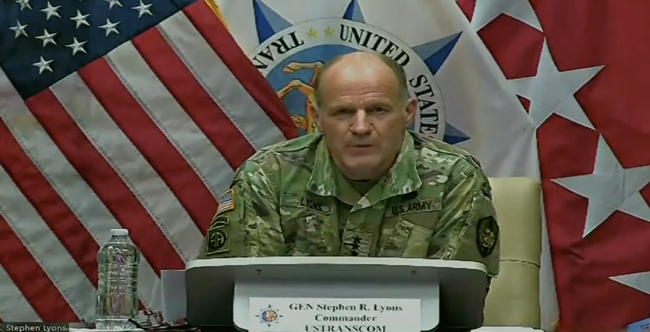 This exchange with the press (the script of which reached B2) took place on August 23.
A sustained rate of evacuation
The operation is continuing with a more than sustained evacuation rate. " More than 10.000 in the last 24 hours said General Lyons. A steady pace (37.000 people evacuated on 23.08, 48.000 the next day, 58.000 on 24.08). With sometimes happy events to celebrate: three babies were born on board (or just on arrival).
400 to 450 passengers on average per plane
« We never want to leave Kabul airport with an empty or even partially full plane if we can avoid it. So we don't. "In fact, each plane is filled with" approximately 400 to 450 passengers ". The record is currently held by the crew of flight C-17 with callsign 871 who left with " 823 passengers ».
All the air force mobilized
« All mobility resources are focused on this effort. The air component has more than 200 aircraft engaged in operations. Even the KC-10s are involved in the operation in one way or another. […] The Minister has decided to activate the first stage of the Silver Reserve Air Fleet (level 1 of the air civil reserve (see box).
The fuel issue
« We voluntarily do not take fuel on the ground. So we make sure we have enough fuel to get in and out without taking fuel so as not to stress the logistical posture there. »
Quick XNUMX-hour floor rotation
The one-hour rotation on the ground is made possible by two elements: We have a number of aircraft engaged. But we have twice as many crews. […] Our crews are absolutely amazing, I'm not going to lie to you. They are tired. They are probably exhausted. » And the ambition is to « reduce time in the field to less than an hour ».
A daily dialogue of deconfliction with the Taliban
« We are in daily communication with Taliban leaders outside the airport. Sometimes several times a day to resolve the conflict as best we can, and help ensure healthy access to the airfield for US citizens in particular. »
A potential Islamic State threat
« We are aware of the threat posed by the Islamic State. Without speaking on behalf of the Taliban, I think it's a safe assumption to assume that they too are aware of this threat. NB: the general did not want to dwell on the French A400M firing decoys during takeoff.
Mission completed August 31
« This was the direction given by the President. And we promise to do it. We are not going to let go. […] As long as there is a mission to accomplish. We will be there. »
And after August 31
« It is certainly possible that the airport will maintain its operations in the future. It will be up to the local authorities to define it. "If there is a departure of the US army, " that doesn't mean everyone is going to leave and not continue to fly planes from there. NB: the Turks could stay.
(Comments selected and translated by Nicolas Gros-Verheyde)
Activation of the Air Civil Reserve. Decided on August 22 by the Pentagon, the activation of level 1 of the CRAF (Civil Reserve Air Fleet) aims to expedite the evacuation operation from Afghanistan. It allows the Ministry of Defense to access commercial air capabilities. Concretely, level 1 will concern 18 aircraft: four from United Airlines, three each for American Airlines, Atlas Air, Delta Air Lines and Omni Air, two from Hawaiian Airlines. Aircraft activated by CRAF will not fly to Hamid Karzai International Airport in Kabul. They will be used for the further movement of passengers from temporary shelters and temporary transit bases. It allows military aircraft to focus on operations to and from Kabul. This is CRAF's third activation in the program's history. The first occurred in support of operations Desert Shield/Storm (August 1990 to May 1991), and the second was for Operation Iraqi Freedom (February 2002 to June 2003). see communicated in English.