Between discriminatory public aid and restrictions on the work of journalists, the freedom to inform questioned (v2)
(B2) We can proclaim in all tones that freedom of the press is essential. And that the diversity of the press must be preserved. It is still necessary to apply it in a concrete way, in particular at the economic level...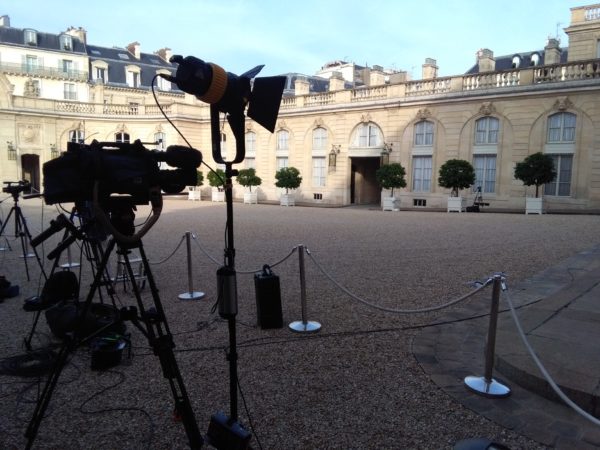 Restricted freedom of information
Accessing information has become more difficult in these times of the Covid-19 health crisis. As restaurants and cinemas reopen, press restrictions remain. Press conferences are kept to a strict minimum. When they exist, they bring together only a handful of journalists, charged, in the best of cases, with collecting and relaying the questions of their colleagues (this is the system of pool). Most often, they are replaced by videoconferences or briefs » phone calls.
What could be easier then than simply ignoring an awkward question asked on a WhatsApp loop or in a Teams conversation? Or quite simply to refuse a journalist to attend a briefing (NB: under fallacious technical pretexts, as the Élysée is so good at doing). Some organizations simply refuse live questions, or even questions at all. Another now well-established habit: the "outstretched microphone" at the end of a trip or a meeting only leaves room, once again, for a very limited number of questions, and makes it possible to cut short the first opportunity. Creating and maintaining a network also becomes more difficult.
However, to ask questions freely, to ask for details, to follow up to obtain clarification, to allow oneself to doubt an affirmation...: as much as it is possible to maintain the link with a source by telephone when the relationship is already well established, as much it can become tricky to gather sensitive or unpublished information from a person you have never even met...
The various professional associations of journalists have just sent a letter to the French authorities to protest against the restrictions on freedom of information. " The health situation certainly justifies caution, but it also offers some people the opportunity to limit access to information the French deserve to be able to access free and quality information ", they criticize.
Discriminating aids
Another element, more economical. According to the latest figures revealed by the The letter a, the French government, via public aid to the press, has rather helped the concentration of media groups than their diversity. Thus, of the 87 million euros in direct aid to the press (excluding aid to AFP and exemption from social charges) in 2019, 49 million euros, or more than half, were paid to ten groups only. A single group, LVMH (Le Parisien, Les Echos, Investir, etc.), alone capitalizes 16,8 million euros. Followed further by Le Figaro and Le Monde (1).
Distortion of competition seriously harms pluralism
« Such a disproportion in the distribution of aid constitutes a harmful distortion of competition between media questions indicates the SPIIL (Syndicate of the independent press of information on line, to which belongs B2 (2)). " Of these 87 million euros, more than 75 million euros relate exclusively to the printed press due to the very nature of the aid, which excludes the online press. Which is contradictory with the desire to develop digital technology. The SPIL " calls for an emergency rebalancing for the year 2021 and an overhaul of press aid ».
(Nicolas Gros-Verheyde)
Read the full press release here
Figures that the French Minister of Culture Roselyne Bachelot refused to give to our colleagues. In complete contradiction to previous practice. The figures are certainly available, but buried in the depths of a public database Data.gouv.fr. So impossible to find, except fierce will...
Note that B2 did not receive a cent of subsidy (nor made a request for that matter)
Article supplemented with the elements of the letter sent by the associations of journalists