Mozambique. We must act ! The Europeans will train the special forces (João Gomes Cravinho)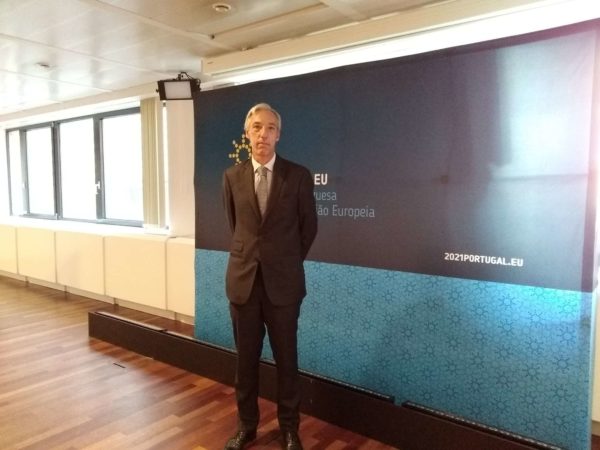 (B2 – exclusive) EU defense ministers on Thursday gave the green light to planning a military training mission in Mozambique. Portuguese Minister João Gomes Cravinho explains the ins and outs of this new CSDP mission which should be set up in 2021
The question of Mozambique was on the agenda of the meeting of defense ministers on Thursday (6 May), among other topical issues such as the Sahel or Libya...
The High Representative spoke of a sense of urgency that Europeans had to engage. Do you share this point of view?
- We must act yes. In the Cabo Delgado region [in northern Mozambique], we see both particular local dynamics and international dynamics, linked to what is happening in Somalia or the Sahel. It's always like that when there are terrorist incursions: we have international reasons and a local alliance...
If we don't act, would there be a risk then?
— It's really a risk, just like in several places in the Sahel. For a year, the city of Mocímboa da Praia [in the North near Tanzania] is already not governed, but controlled by terrorist groups. And it could get worse and worse. We risk having a territory entirely controlled by terrorist groups. It is really unacceptable. We cannot allow portions of territory to escape government sovereignty in this way.
Do you have the impression that your fellow ministers have fully understood this issue?
— Everyone understood that. Many ministers – at least three-quarters of those who spoke – referred to it during their speeches. We need to set up a European Union training mission. It will be dedicated to the special forces. Which is a little different from other EU training missions, in the Sahel or in Somalia for example.
Will countries walk the talk and commit?
- It's still very early to say who will be there. There are internal procedures in each country. Some said: it's important, but it's difficult to participate at the moment; because we have other priorities and have already done the planning for our military this year. But others said: 'you can count on us! either for a symbolic contribution, or for a more significant contribution. That's what comforted me. There is a sufficiently strong dynamic that is engaged. (1)
Will that be enough?
— What we are planning is a small mission, smaller than those we already have on the ground, in Mali or in Somalia. It should turn around a hundred to 120 soldiers. Portugal has already pledged to provide half of the workforce. So it shouldn't be too difficult, I think, to find another fifty or sixty among the Europeans. [But] first, we have a whole series of questions to resolve. The European External Action Service is sending a technical mission this May to Mozambique precisely to identify the 'how to' and 'where exactly'.
Doesn't Mozambique rather want equipment than trainers?
— The Mozambican government wants to train its troops. Of course, you can't do training without also equipping. We have experience in Mali and in the Central African Republic: training unarmed forces is useless. It would even be absurd. You have to have armed forces. We now have the European Peace Facility. A new instrument. It's really a game-changer. We are not worried about this aspect. There will be solutions. The equipment will come in time.
So the mission will not be quickly on the ground, however? We are talking about the second semester. Will it be before the end of 2021?
— The planning process is a technical process, but also a political one (with Mozambique). The Mozambican defense minister is in Lisbon for three days from Monday. We will definitely discuss it. To answer your question concretely, the European mission will surely be on the ground before the end of the year. And hopefully sooner.
Several countries presented at this meeting a no paper with the idea of ​​a first entry force into a hostile territory? You signed it. Why ?
— You have to be able to use the military instrument very quickly. You have to be able to use the military instrument very quickly. For example, what we envisage for Mozambique, it takes six months. And we can do it because Portugal is already starting bilaterally, in advance. If there is an emergency, an immediate crisis, we cannot wait six months. This requires us to have a more or less permanent capacity, on a rotational basis, to intervene if ever needed, within a few weeks.
This force could intervene on what threat?
"We have no immediate threat today. But I don't know if, tomorrow, we couldn't have our 11/XNUMX which would require immediate intervention. You have to be prepared for any assumptions. In the discussion we had on threats [in November in the context of the strategic compass], we can clearly see the emergence of this collective awareness that the world is increasingly dangerous for Europe. This force is a way of preparing for it. It also makes it possible to change the way in which one is understood outside as a geopolitical actor.
It means the end of battle groups which have not really been very effective?
- Yes. I don't think there is a very positive view of the experience of battle groups. The positive thing is that we learn from our experiences. We must evolve, have a much more agile, much more usable, and short-term version. But we are still in a very early phase of discussions. The more concrete we go, the more complicated it will be. On a theoretical level, it's always easier to find a consensus...
(Comments collected by Nicolas Gros-Verheyde and Aurélie Pugnet)
NB: Three – four countries already volunteer for Mozambique. According to some European sources who have entrusted it to B2, three or four countries are already in: Italy, Greece and Romania and (perhaps) Sweden. France could also be there. The decision is in the hands of Emmanuel Macron. It could be settled in a 'Chef to Chef' interview, as often, on the sidelines of a summit (perhaps this evening in Porto). Concretely, the study of a crisis management concept (CMC) has been initiated, the first stage of military planning. Read : EUTM mission in Mozambique: Josep Borrell picks up the pace. The planning begins
To be continued: Europe must think geopolitics, learn to recognize itself as a geostrategic player (João Gomes Cravinho)
Face-to-face interview in French, in Brussels, Friday May 7, at the premises of the Permanent Representation of Portugal to the UEPl