The Takuba Task Force in a nutshell
(B2) Declared fully operational at the end of March, the Takuba task force is currently based in two locations, essentially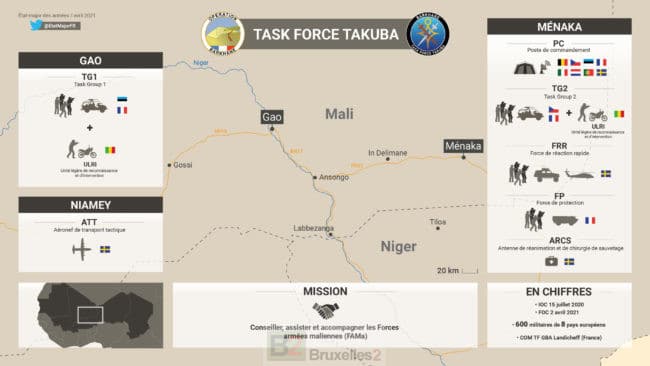 Most of the Takuba task force is based in Ménaka. Are located:
the force headquarters with officers from eight countries (France, Estonia, Czech Republic, Sweden, Italy, Belgium, Netherlands, Portugal);
the 2nd Franco-Czech task-group with the Malian ULRI n°2;
the Swedish rapid reaction force (vehicles, men, helicopters);
the protection force armed by the French;
and the Swedish surgical and intensive care unit.
In Gao, there is the first Franco-Estonian task-group with the Malian ULRI n°4.
Finally in Niamey, a Swedish C-130 is based, responsible for strategic medical evacuation, or transport.
The takuba task force is commanded by a French general, brigadier general Philippe Landicheff, from the air force (he was formerly in Bordeaux).
(NGV)
Read also: Force Takuba: who participates, observes or simply supports? (v3)