Leaks irritate Brussels. The witch hunt has begun
(B2) Leaks in the media on internal discussions in particular on the drafting of European sanctions are starting to seriously irritate Member States. Grunts, investigations, threats of sanctions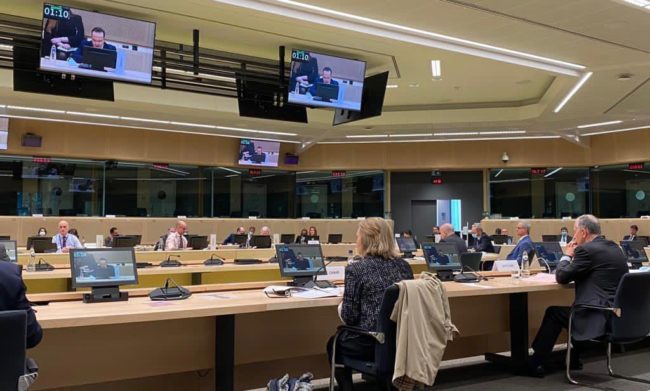 Well-informed informants
For the past few weeks, most of the discussions that normally take place behind closed doors at the COPS, the political and security committee, or in the Council's working groups, have been leaked to the press, even before the decision is formalized. European circles, vexed, tense up and demand sanctions against applicants, castigating these damned journalists who allow themselves to spread in the public square what has been carefully decided in the secrecy of the alcoves.
Looking for the culprits?
Everyone begins to look askance, suspecting one or the other of taking their phone to inform the journalists, as soon as the decision is made. Most of leaks concern sanctions on Russia or Ukraine, some are turning to the Baltics or the Poles. The Anglo-Saxon media (Politico, Wall Street Journal, Radio Free Europe, Reuters) being the main beneficiaries of these leaks, others point to the Nordics, etc. Others appoint diplomats from the European seraglio, who would benefit from highlighting their work. The atmosphere is hot. To the point that a request for an investigation has been officially requested.
A request for investigation
After information broadcast by Radio Free Europe on the discussions between the 27 at the beginning of February, the president of the COPS (the Finnish Sofie From-Emmesberg, appointed by the High Representative) exclaims: this kind of behavior " may endanger the conduct of work ". She asks the Council to examine the possible legal consequences ". She's not the only one. " Several Member States support his request, according to the report broadcast by our colleague from Radio Free Europe, Rikard Jozwiak (via twitter). A point that has been confirmed to us, it goes from the 'biggest' countries to … the smallest. " It is bullshit grumbles a diplomat from a member state.

Sanctions requested against the authors of the leaks
Belgium in particular, referring to several disclosures of discussions at the COPS, is looking at Russia. It's a " breach of professional secrecy of Board deliberations underlines the legal service of the Council. " This violation may engage [the responsibility] of the person who reveals ('leak') the information ". From " investigations can be implemented by the Council or by the Belgian authorities. Each breach of confidentiality may also be tracked. of information to the hierarchy ". Needless to say, instructions were given to the various spokespersons and ambassadors to keep their tongues, and to flee like the plague from any journalist.
A point of view that challenges
One can understand the desire to keep the content of the retentions secret as long as the negotiation is in progress. On the other hand, when the negotiation is over, it is disturbing that this position persists. Nothing would indeed prevent a body as important as the Political and Security Committee (COPS) from communicating as soon as a decision is taken. This would avoid this ultimately quite negative attitude for European information!
(Nicolas Gros-Verheyde)
All this does not prevent B2 from doing his job. Read article to follow (Sunday on B2 Pro): Human rights. Fifteen names soon on the European 'Magnitsky' list