The Charles-de-Gaulle and the carrier battle group in the Gulf of Aden, alongside the 'Atalanta' (v2)
(B2) The French carrier group participated in a Passex exercise with the European anti-piracy operation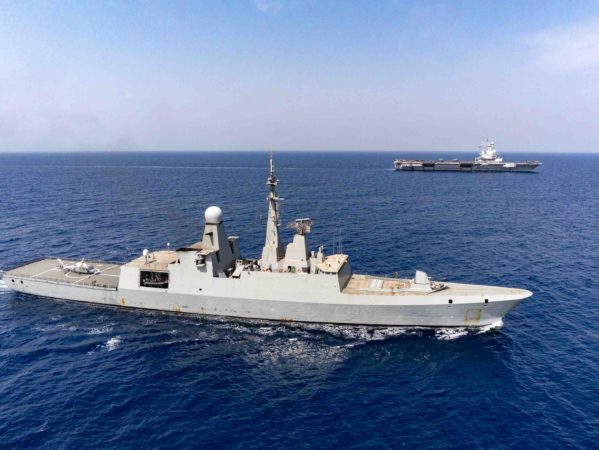 After sailing in the Red Sea, the Task Force 473 consisting of the aircraft carrier Charles de Gaulle (R-91), Air Defense Frigate (FDA) Chevalier Paul (D-621), multi-mission frigate (FREMM) Provence (D-652), Belgian frigate Leopold 1er, (F-930), command and refueling building (BCR) Yes (A-608) and a nuclear attack submarine crossed the Bab el Mandeb strait on Wednesday (10.03). It was joined by the American destroyer USS Laboon. The group then joined Djibouti for a few hours at anchor.
The GAN in support of Atalanta
While the aircraft of the Embedded Air Group (GAé) carried out a campaign of fire on " the Djiboutian firing ranges of Koron "- announces the staff of the armies, the buildings then " patrolled for four days in the Gulf of Aden » the concert with the vessels of the European Union operation (EUNAVFOR ATALANTA) in charge of the fight against piracy and trafficking of all kinds. With two objectives: on the one hand, the zone information sharing and, on the other hand, increase the presence on site to guarantee the security of this strategic maritime area "as indicated by the staff of the armies.
In fact it is a 'Passex', a combined exercise to share techniques and procedures and improve maritime safety (1). On this occasion, a so-called 'Fast Rope' exercise was carried out towards Atalanta's flagship, the Castilla. That is to say the landing of special forces or boarding teams via helicopters (in this case an NH-90) using a smooth rope. Device that allows you to arrive "quickly" on a ship.
(NGV)
This type of exercise takes place regularly between allied or partner ships, to better understand the strengths of each and facilitate interoperability.
Updated with Passex details and vessel ID pictured