In Russia, the repression is only getting tougher, the authorities dare (almost) everything
(B2) This is what we remember from the testimonies of Denis Shedov and Sacha Koulaeva, during a one-hour exchange, remotely, with MEPs, this Friday (5.02)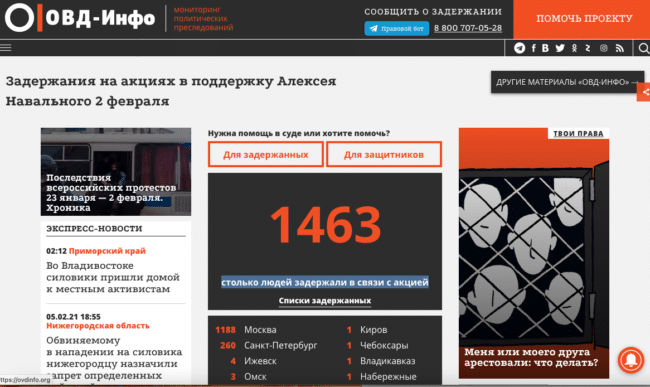 Denis is a legal analyst for the OVD-Info platform, launched at the time of the 2011 protests. It was then a question of following the mass arrests carried out by the Russian authorities. What he describes today is worse. The massive persecutions are of a magnitude " unprecedented ».
In jail for protesting
Since January 23, several thousand people were detained for taking part in rallies in support by opponent Alexeï Navalny, back in Russia at the end of his convalescence in Germany, after an assassination attempt by poisoning. Detention can last from a few hours to a few days ". The testimonies state that unnecessary use of force during arrest " and of " physically abusing the police ».
Whatever the legal pretext
All pretexts are good to justify criminal proceedings: from the now classic " violation of health rules in the context of the pandemic ", to the most original " involvement of minors in illegal activities ", to the most incredible " violation of human rights ! As in Belarus, journalists are directly targeted, " prosecuted for covering protests ". As well as the lawyers, prevented from going to the police stations. Of course, there is " nothing new almost smiles Denys. Except that, " this trend is only getting worse ».
A repression without complex
Sacha teaches as a lecturer in human rights at the Paris School of International Affairs, Sciences Po. She headed the Eastern Europe office for FIDH (the international federation for human rights) . For her too, the Russian practices are ultimately nothing surprising. Except that " power no longer even tries to hide behind a legal procedure ».
even more violent
She mentions cases torture to recover the password of a phone ". From " parents threatened with losing their parental rights ". The pressures are at work, with employers " threatening their employees in case they go to demonstrate, and even at school. " We are arrested for having tweeted or simply retweeted ". The state does not even seek not to justify this blind repression nor to convince of its legality ". His message is all the more clear: any opposition will be subject to repression ". And " the level of violence increases from day to day, even hour to hour ».
(Emmanuelle Stoesser)