Latest news from EU peacekeeping missions and operations – CSDP (September 2020)
(B2) Cooperation is an essential part of the work carried out on the ground by EU missions and operations. It has many and varied forms. From sharing tea with a ship's captain to glean intelligence, to accompanying army instructors from a host country, through training with a foreign crew or collaboration between civilians and military, and between EU missions...

Central Mediterranean. Behind the scenes of Irini's 'friendly approaches'
The 'friendly approaches' of merchant ships, those barely hour-long visits to the bridge, are important moments for the arms embargo monitoring operation to and from Libya (EUNAVFOR MED Irini ). How does it happen. explanations here
Gulf of Aden. COCOA with the Japanese
Crossdeck exercise with vertical resupply, resupply at sea, communication and gunnery drills, etc. The menu was intense for the day of exercises and training at sea, September 21, between the crews of theESPS Santa Maria of the European operation (EUNAVFOR Atalanta) and of the JS OHNAMI. The Japanese destroyer is also sailing in the Gulf of Aden to fight against maritime piracy, with Combined Task Force (CTF) 151. These exercises are part of the operation's cooperation strategy, known as COCOA. Details here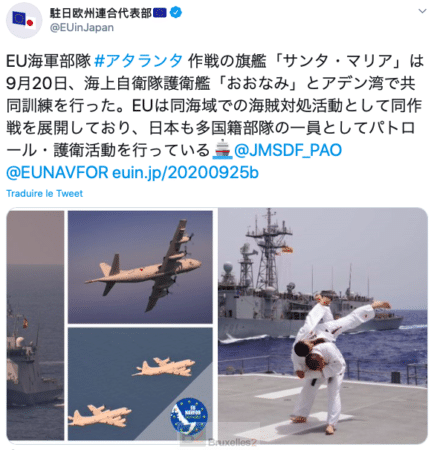 Koulikouro (Mali). Medical group in exercise
A day of medical coordination training involving, at the same time, military first responders and armored ambulance teams. This was the wager of the Malian army training mission (EUTM Mali). The training took place at the Koulikouro training camp, about fifty kilometers from the capital Bamako. Details here
Mogadishu (Somalia). Four hours to train in cooperation between the police and the army
Together, the EU Capacity Building Missions in Somalia (EUCAP Somalia) and Military Training Missions (EUTM Somalia), have developed a police and army coordination exercise for the Somali police planning. The goal: to prepare them to work with the Somali army in areas liberated from Al Shabaab. Details here
Criva and Mamalyha (Ukraine - Moldova). detect contraband
The Civilian Border Assistance Mission of the Moldovan and Ukrainian Forces around Transnistria (EUBAM Moldova Urkaine), the Ukrainian and Moldovan national agencies dealing with nuclear and radiological issues, have come together to train border guards/police and customs to detect and intercept the smuggling of radioactive materials at the border points of Criva and Mamalyha. Details here
Bouar (Central African Republic). Delocalized training
A detachment from the military training mission (EUTM RCA) went to the west of the country, to the town of Bouar, to support the instructors of the Central African armed forces (FACA) responsible for training young recruits.
And also, to see, the youtube videos of the EUNAVFOR Atalanta operation, in particular the two very short videos scrolling at hyper-accelerated speed of a sea voyage aboard a ship, or a day of Covid-19 tests on deck.
(information collected by Emmanuelle Stroesser)
NB: To know everything or review, do not hesitate to obtain our book on CSDP
Read also on the B2 Pro (published in September):
... and on the Blog: