Dear North Macedonia, welcome to NATO
(B2) It's official. A thirtieth flag was hoisted in front of NATO headquarters in Brussels on Monday (March 30): that of North Macedonia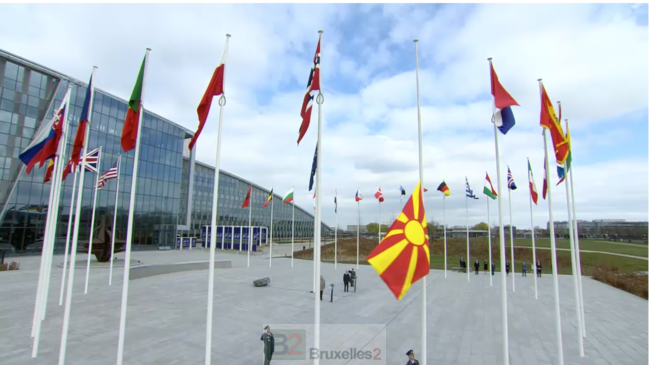 A ceremony at Alliance headquarters

Almost twenty years after NATO's intervention in what was then only the former Yugoslav Republic of Macedonia, the country is now a full member of the Atlantic Alliance. The acts of its accession treaty were deposited in Washington, depositary of the North Atlantic Treaty, on Friday (March 27). Its accession was symbolized this afternoon by the raising of the colors of North Macedonia at NATO headquarters in Brussels. A ceremony in the presence of the Secretary General of NATO, Jens Stoltenberg and the charge d'affaires of the delegation of North Macedonia, Zoran Todorov. The flag was hoisted at the same time at SHAPE in Mons and, on the other side of the Atlantic, at Allied Command Transformation in Norfolk (USA). All accompanied by the North Macedonian national anthem.
The best friends of the world
Jens Stoltenberg welcomed Zoran Todorov, wishing the country the " welcome to nato ". He recalled that " in times like these, friends and allies are more important than ever, and now North Macedonia has the best friends and allies in the world ". And to the Macedonian to answer: " From now on, we are no longer alone. From now and forever, once and for all, we are NATO ". And to specify that NATO membership " it is a great accomplishment, because it is the guarantee of the protection and the safeguard of our democratic values ».
Enabled by historic agreement
Membership of NATO, Jens Stoltenberg underlined and recalled, " was made possible by signing the agreement with Greece on the name of North Macedonia. A " historical compromise ". It also " welcomed the decision of the European Union to start accession negotiations » with North Macedonia, « another sign that your country is ready to take its place in the Euro-Atlantic family, contributing to greater security and stability for all ».
(Aurelie Pugnet)
Read also: