Arms embargo or arms export policy coordination? See it clearly
(B2) The Europeans finally decided on Monday (October 14) to coordinate their positions on arms exports to Turkey rather than imposing an arms embargo (1). For what ? What is the difference ? How does this apply?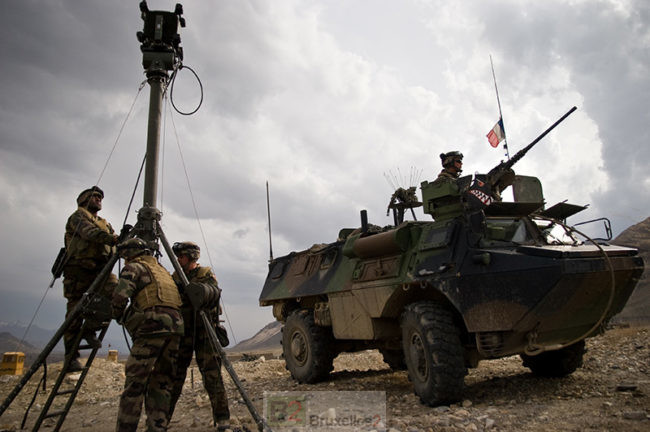 What is the difference between an arms embargo and a coordination of arms export policies?

She is important. The embargo is an imperative European decision which defines precisely what is allowed or not allowed. It is taken unanimously, is the subject of a text published in the official journal which may be subject to review by the Court of Justice or national courts. It is the Member States which are then responsible for transposing and applying this measure (not the Community institutions).
The coordination of arms export policies does not require a European decision in the legal sense of the term, just a political decision. Its application is decided by each Member State, either generally or on a case-by-case basis. Each State remains free of its interpretation. Since not all export licenses are published, discretion reigns. A few common principles were indeed defined in a common position dating from 2008 (which was just revised a few weeks ago), but they are quite general. No judicial control is foreseen. Coordinating export policies is therefore more of an incentive than a mandatory obligation.
Could the Europeans impose an embargo?
Absolutely. An embargo may be imposed on the basis of Article 29 of the EU Treaty (2). The process is described in guidelines on restrictive measures (the latest date from June 2018, if I remember correctly. Standard wording is even proposed:
« The sale and supply to [Turkey], as well as the transfer and export to [Turkey], by nationals of the Member States or from the territory of the Member States, or by means of vessels or aircraft of their flag, armaments and related materials of any kind, including arms and ammunition, military vehicles and equipment, paramilitary equipment and spare parts for the aforesaid, whether or not they come from their territory.
Which countries are currently subject to an EU embargo?
About fifteen countries are currently the subject of a decision to export arms by the European Union on the basis of a European decision of its own or in application of a UN resolution. I have listed: Afghanistan, Belarus, Central Africa, DR Congo, North Korea, Libya, Myanmar, Russia, Somalia, Sudan and South Sudan, Syria, Venezuela, Yemen, Zimbabwe, for example. To these must be added China, the subject of a political declaration since 1989 equivalent to an embargo.
Is an embargo possible without a UN resolution?
The Europeans often prefer to impose an arms embargo, based on a UN Security Council resolution. Which is more efficient. But they have not hesitated in the past to enact such a measure for Syria for example, Russia or Venezuela more recently.
Why not impose such a measure?
This is apparent for several reasons, both technical and political.
On the one hand, to set up an embargo, you need a written act, prepared in a fairly precise way, which must go through a whole series of filters and working groups (RELEX in particular) and ambassadors (COREPER). All of this takes time. And the European imperative was togo fast.
Then, to write this act, it would have been necessary to resolve rather delicate questions: does the embargo extend to current contracts? Does it concern only military equipment or all other equipment, as well as technical assistance, training, financial aspects? Does it also cover equipment that is not used in Syria? What about the military cooperation already underway (for example on the A400M)? Etc. A whole series of eminently delicate questions which it was impossible to resolve. Having a few words of conclusions and not a legal act also has a huge advantage: it is not open to challenge before the Court of Justice of the EU.
Finally, an arms embargo pronounced against a member country of NATO, a candidate for membership and linked by a Customs Union was eminently delicate. The coordination of export licenses has many advantages: it allows each State (under cover of a common position) to do more or less what it wants, when it wants, how it wants. It is discreet (no publication in the OJ) and almost uncontrollable, except information by the media. If a country does not take action, it will hardly show.
In short, it's fast, it can be effective (at least at the level of the political message), it remains vague, and it does not have the disadvantages of a legal act...
Have all the countries followed today to the letter the prescriptions decided on Monday?
Not really yet. According to our information, most major countries (France, United Kingdom, Germany, Spain) have announced measures (3). But others are very discreet, even silent, such as Bulgaria for example, one of the main arms exporters to Turkey, and a close neighbour. We found no trace of any decision.
Is this measurement important?
Without doubt. We cannot consider a reinforced arms export control measure as completely innocuous. It is particularly important politically and symbolically, and can also have very concrete consequences. The firm 'condemnation' of the Turkish offensive in Syria, described as an 'invasion' by several ministers, is not insignificant. To say that the decision of the foreign ministers is not important is therefore wrong.
Sanctions decided by the United States are they effective?
They are not purely symbolic, as some have hastened to say (seeing only a freezing of the minister's assets). The USA has decided to freeze the assets of the Turkish Ministry of Defense and has prohibited any transaction with an American entity, or on American soil, as well as any assistance (technical or financial, to do so). Moreover, the US Treasury matches this decision with a threat of extra-territorial sanctions to any person (even outside the USA) who would be complicit in such transactions. Basically, this could result in prohibiting any transaction with Turkish defense, denominated in dollars and (immediately) suspending all military cooperation on the F-35 for example (unless the Treasury authorizes these transactions one by one), or even on the 'A400M. This decision is not contradictory in itself with the European measures. In a way, it is complementary.
(Nicolas Gros-Verheyde)
« The Council adopts decisions which define the position of the Union on a particular question of a geographical or thematic nature. Member States ensure compliance of their national policies with Union positions. (Article 29 TEU)