A Franco-German-Dutch detachment to the rescue of the Bahamas
(B2) Two Dutch ships — the HNLMS (Zr.Ms.) Johan de Witt (L801) and the HNLMS Snell (A802) — left Saint Martin on Sunday (September 8). Direction the Bahamas to help the victims of Hurricane Dorian
A German and French detachment with the Dutch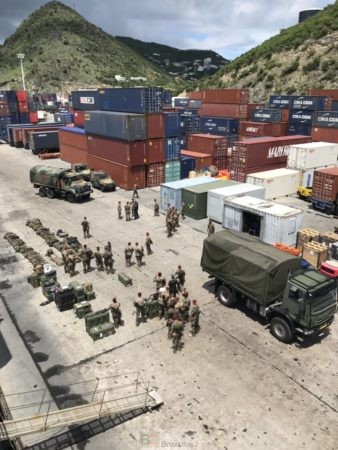 Expected arrival on site Wednesday (September 11). On board the Dutch amphibious ship, 550 soldiers from the Dutch navy, army and air force, three helicopters, and two additional detachments. 50 French soldiers from the 33rd RIMa - Marine Infantry Regiment and the 17th Parachute Engineer Regiment and a medical team and 50 German soldiers from the Seebataillon — a German unit integrated since 2016 into the Royal Netherlands Marine Corps — are also on the trip.
An exercise that has become reality
Coincidentally, these men were to take part in a major joint disaster relief exercise in the Caribbean. Exercise turned into real action. An exercise conducted as part of the European Intervention Initiative (EII). The French soldiers were also transported from Martinique to Saint Martin by another Dutch ship, the HNLMS Pelikaan.
Important needs
« The need is great there underlined the Dutch Minister of Defense Ank Bijleveld, thus responding to the request of the local authorities. The Category 5 hurricane claimed many lives. 76.000 people need urgent aid, according to the first estimates of the United Nations World Food Program (WFP). Large parts of the islands are submerged and the infrastructure has suffered greatly. According to the Red Cross, around 13.000 homes were destroyed or seriously damaged.
An amphibious ship and a hydrographic survey vessel
Le Zs.Ms. Johann de Witt is one of the largest ships in the Dutch Navy. Quite similar in its functionality to the French projection and command buildings (BPC), it includes a hospital, a large bridge for vehicles and emergency services and an entry-exit airlock where boats can enter and leave. It carries two Cougar transport helicopters, a marine unit with two FRISC type ships (1) and four landing craft. Also on board are engineers, a unit specializing in civil-military operations and two specialized diving teams. As to Zr.Ms. Snellius, it is a hydrographic survey vessel, equipped with state-of-the-art sonar to map underwater damage, shipwrecks and other blockages. He " will therefore be able to play a useful role in the reconstruction of the ports of the Bahamas says the Dutch navy.
(Nicolas Gros-Verheyde)
Fast Raiding, Interception and Special Forces Craft - outboards used by special forces
---
A British detachment already hard at work
A British detachment is already at work on the island of Grand (Great) Abaco. The RFA Mounts Bay, an auxiliary ship to the Royal Fleet, has started to provide aid, providing shelter kits, water and other basic items. And his helicopter has already carried out several rescue operations evacuating injured children and a British citizen trapped under the rubble to his on-board hospital, such as the precise the Royal Navy.