Titan and THeMIS deployed in Mali with Estonian soldiers from Barkhane
(B2) The Estonians deployed in Mali as part of Operation Barkhane – they provide guard and security for the French base in Gao – did not come alone. They brought with them their latest generation of THeMIS land drone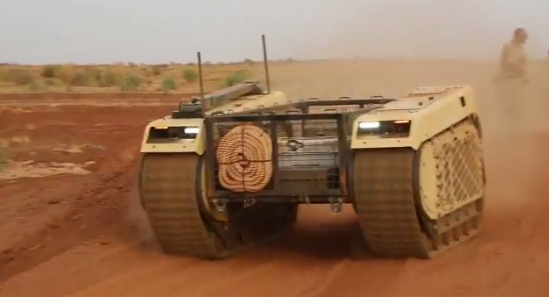 Testing the new equipment in the extreme conditions of Mali
This tracked hybrid modular infantry system (Tracked Hybrid Modular Infantry System) can be equipped in several versions: logistics, able to transport up to 750 kg of equipment, explosive device detector (IED) or combat (with machine guns). " VSt's an operation in one of the most difficult climates in the world. This is invaluable experience for us and the knowledge gained during the mission will be used to continue R&D according to Jüri Padjus, Director of Defense Programs at Milrem Robotics. The unmanned vehicle makes it possible to transport equipment, such as ammunition, which eases the burden on the soldier.
A light drone in surveillance
In addition to the THeMIS, a light helicopter drone, the KX4-LE Titan from Threod Systems, provides situational awareness. It can reach a height of 80 meters, and carries an electro-optical sensor relaying images. A lanyard connected to the THeMIS allows him to increase his autonomy.
Our newest generation THeMIS UGV has been deployed to Mali to enhance the combat effectiveness of our soldiers by adding mobility, increasing the effectiveness of combat service support and reducing soldier fatigue. pic.twitter.com/6crG33UBEB

— Milrem Robotics (@MilremR) June 7, 2019
(NGV)
NB: this vehicle is part of one of the 'capacity' projects developed under the permanent structured cooperation (PESCO). Project number 21 is coordinated by Estonia with the participation of around ten countries (Belgium, Czech Republic, Spain, Finland, France, Germany, Latvia, Hungary, Netherlands, Poland). Read : The land robot project made in Estonia submitted to the Defense Fund and PESCO.