The German P3 C Orion leaves the edge. The Surcouf present for a few days
(B2) Maritime patrol P3-Orion leaves European counter-piracy operation off Somalia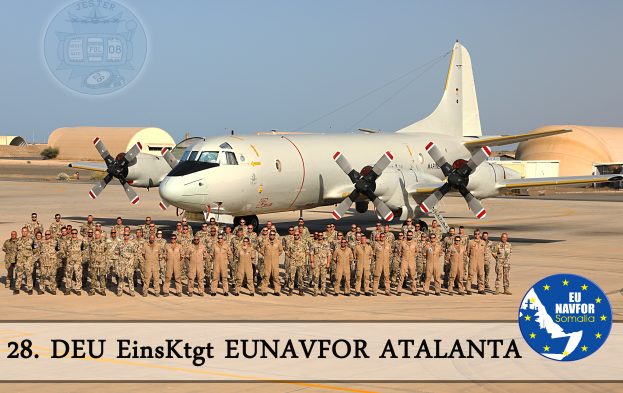 The German maritime patrol aircraft P3-C Orion carried out Thursday (June 13) his last outing as part of the European anti-piracy operation (EUNAVFOR Atalanta). Deployed since March 18, the P3-C Orion notably made it possible, on April 21, to locate a dhow attacked by Somali pirates (read: The pirates are on the attack again. A mother ship stopped short in the Indian Ocean). " Although the detachment was not on alert, they were able to take off very quickly and helped EU NAVFOR locate and free the captured dhow we explain at EUnavfor Atalanta HQ in Rota where we do not hide the interest of these sky observers.
A very useful aircraft
« While on aerial patrol, the aircraft is able to fly over large areas of the Somali coast and survey beaches used by pirates to plan attacks. The crew can also capture high quality images of dhows and skiffs deemed suspicious and relay this information to the Force Commander onboard ESPS NAVARRA, who then assesses the situation and takes appropriate action. ».
A German-Spanish relay
Since the start of the operation in 2008, both Germany and Spain have deployed maritime patrol aircraft almost continuously. A German P-3C will join Operation Atalanta again in September.
(MHA & NGV)
---
Le Surcouf for a few days in operation
At the beginning of June, the Surcouf (F-711), the French La Fayette-class frigate has returned to the EUNAVFOR Atalanta counter-piracy operation for a few weeks. Already deployed in 2011, 2012, 2013, 2017 and 2018, the FS Surcouf accompanies the Spanish flagship Navarra, present in the region since February 2019, in its activities to fight against piracy, protection of World Food Program cargo ships and control of fishing in the Horn of Africa and the Indian Ocean (Read: The Navarra frigate in the EU anti-piracy operation). The French frigate then joined Madagascar for a (national) surveillance mission in Malagasy waters.
---