A French A400M from the Pégase mission diverts to the island of Lombok
(B2) Present in Indonesia for a mission of presence and demonstration of French know-how (the Pégase mission), a French Air Force A400M Atlas transport plane diverted from its initial mission to ensure humanitarian aid convoys for the victims of the earthquake on the island of Lombok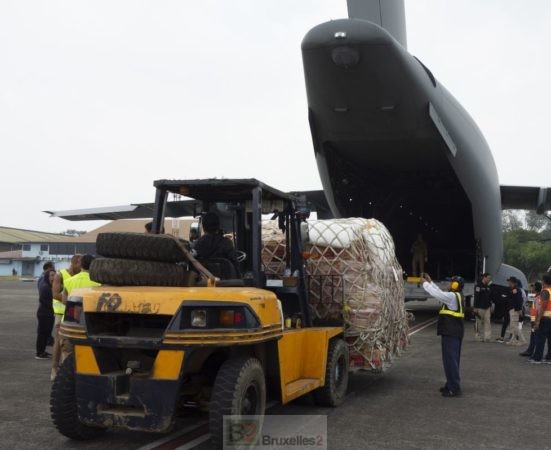 25 tons of freight
The A400M thus transported in a single flight, on Friday (24 August), 25 tonnes of cargo including hygiene products, foodstuffs such as rice and pasta, as well as reconstruction equipment and shelter kits. The aircraft also transported two ambulances, as well as a dozen Indonesian personnel belonging to humanitarian associations or the armed forces.
The Pegasus mission
The detachment made up of three Rafale B, an Airbus A400M, an Airbus A310 and a Boeing C-135 tanker and a hundred airmen and mechanics began its mission in late July in Australia before going to Indonesia and Malaysia. He then goes to Vietnam, India, to end up in the United Arab Emirates, where France has a base (Al Dhafra Air Base 126).
This mission, called 'Pégase' (1), allows " to affirm the presence of France in this region of the world and to strengthen the ties of cooperation with the partner armies in the region ", as stated in the official press release. It also aims to promote materials " and the know-how of the French Air Force in terms of power projection ».
NB: we can certainly conceive that this humanitarian demonstration could be a serious argument for the purchase of A400M by the government of Jakarta.
(NGV)
(1) Download the Press Kit (English)