Maurane, an endearing and committed voice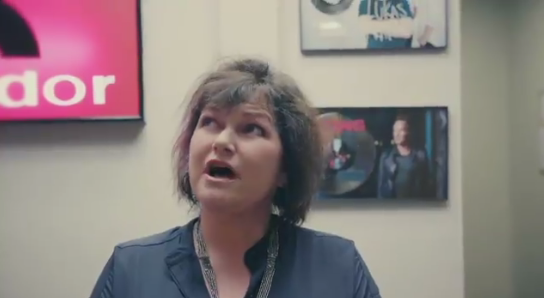 (B2) Belgian singer Maurane has died, announces the RTBF this morning. She was 57 years old. She was found lifeless in her bed yesterday, Monday (May 7), around 20 p.m., in Schaerbeek, the Brussels municipality where she lived. The reasons for death are unknown. A magistrate from the Brussels public prosecutor's office went to his home.
Nothing foreshadowed this death. Maurane (alias Claudine Luypaerts) performed again last Sunday (May 6) at the Iris festival on the Place des Palais with a tribute to Jacques Brel with Zap Mama or Saturday (May 5) at the Palais d 'Egmont for the Night of Stars for the benefit of the Albert II of Monaco Foundation. Watch the extract of Thomas de Bergeyck from RTL TVI.
The splendid and moving @Maurane dazzled us at the Palais d'Egmont for the Nuit des Etoiles for the benefit of the Albert II of Monaco Foundation! To see Saturday evening in @RTLPlaceRoyale pic.twitter.com/bNJ5tiSk6W

—Thomas de Bergeyck (@bergeyck) 5th May 2018
After two years of absence, she was recovering slowly, according to her own words. And she was even preparing a new album, a tribute to Jacques Brel, well advanced, according to her last tweet, since 14 models were already recorded. A first single was due out in the summer. A tour was even in preparation, for March 2019.
Little news and kisses???? pic.twitter.com/9uL26xGHT1

— Maurane ✏️ (@Maurane) 3th May 2018
A captivating voice...
Maurane was a formidable, deep, disturbing voice, but also a personality, an endearing person. I had the chance to meet her for Radio France International. She had a simplicity, a frankness rather uncommon in this musical environment. The planned interview had largely overflowed the allotted time. But at the same time, we felt a fragility, a sensitivity, a sadness sometimes, which was often expressed in his interpretations. She was also particularly committed. She will regularly participate in the Enfoirés concerts for the Restos du Coeur from 1996 until 2013, alongside Michel Berger who made her known on the French scene in the second version of Starmania in 1988-1989.
Listen to her ! in duet with the talented Typh Barrow in Jacques Brel's La chanson des vieux amants.
… and engaged
She explained this commitment by a formula. " Before I always said that I was a loose singer, that I didn't want to be engaged, that it was useless. In fact, when I see how music shakes things up and keeps things moving forward, I think that's all there is to it… go for it. "" When it affects children, people who next to you do not have enough to eat, you cannot remain indifferent. »
She also hated the warlike atmosphere that too often marks international life. " Like everyone else, this violence, these squabbles with twenty bullets. I can tell you that Bush I have it in the nose…. » she indicated (at the beginning of 2003 we were in the middle of the Iraqi crisis). " Besides, I don't watch the news too much anymore because I find that these wars are given too much media coverage, that in the end they are given importance. People turn on the TV, realize that they have their little war live. There is a very unhealthy side.
Watch her on May 6, in a video shot with Typh Barrow, who returns to the stage, with pain, humanity but tenacity.
(Nicolas Gros-Verheyde)
Read also: When the human dances, Maurane's latest album "tutti frutti"
Photo credit: Twitter Maurane / March 2018