Palanca joint border post soon to open
(B2) It is a black spot in the 'distant' European border which is soon to disappear. Border Police and Customs of Moldova, Border Guards and Tax Service of Ukraine agreed on February 19, 2018 on the final project of 'Jointly Operated Border Crossing Point' - JOBCP) in Palanca. This border post should be operational in November 2018.
Substantial progress
Covering an area of ​​2,6 hectares, the new checkpoint " will be adapted to the needs of all travelers », in particular thanks to infrastructures for people with reduced mobility, a checkpoint for pedestrians and cyclists, etc. If until now, 600.000 people per year crossed the border, this number should double thanks to the new installations. When it is operational, travelers will only stop once for border checks and border crossing time for people and trade will be reduced by 20% we report to the mission. This will represent real progress.
Substantial European support
Work is currently in progress. With a large European financial support: the European Union finances 4,5 million euros (out of the 5,56 million that the project costs). Also technical support. The European Border Assistance Mission (EUBAM) thus supported the Palanca project " in all its aspects, from assistance with the application for EU funding at the initial stage to the technical details of the [crossing point] later "Says the head of the European mission, Slawomir Pichor. (Project details)
A modern and very European position
Palanca will be the first newly constructed border crossing point operating under the new agreement on joint control of the Moldovan-Ukrainian border signed between the governments of Chisinau and Kyiv in October 2017. The aim is to build on " modern border management principles », such as the one-stop shop and the exchange of electronic data between the various agencies involved in border control, already developed in European borders (outside the Schengen area). This will allow the " citizens to benefit from improved border crossing conditions, in line with European standards. »
Two other border points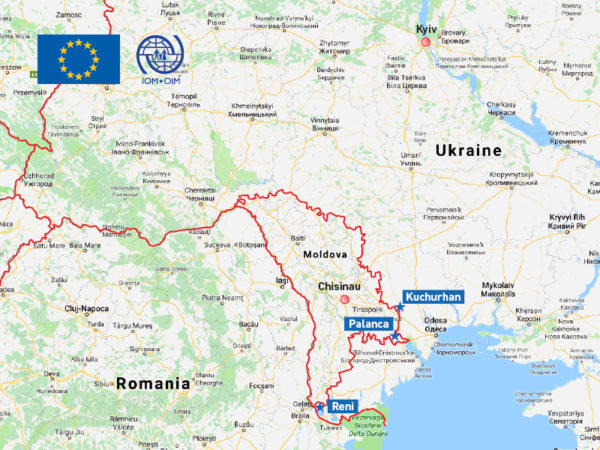 In addition to Palanca, EUBAM has thus helped the partner services to implement another large-scale project financed by the European Union, at the border crossing points of Kuchurhan - Pervomaisk on the M14 (the motorway which connects the two capitals by passing via Transnistria) and Reni - Giurgiulesti (in the west of the country between Moldova and Romania).
An essential element of border control
Joint border control is one of the first objectives of the EUBAM European mission on the border between Moldova and Ukraine, ever since it was set up almost 15 years ago. Thus, European customs officers have been there for about ten years to advise the Moldovan and Ukrainian authorities. They have been hoping for years to see the joint checkpoint project come to fruition. Read our report in 2008: At the edge of Europe with European customs officers
(Claire Boutry st. and Nicolas Gros-Verheyde)
Also read our fact sheet: The Moldova Ukraine Border Surveillance Assistance Mission "EUBAM Moldova Ukraine" (November 2005 - …)