Latest news from EU peacekeeping missions – CSDP (Feb-March 2018)
(B2)
In Africa
Mali. The training mission of the Malian army EUTM Mali participated in the creation of the joint operational center (COIA) whose objective is to coordinate the command of the units deployed in the various regions of Mali. In addition to renovating and equipping the Centre, a course was organized to improve the conduct of operations.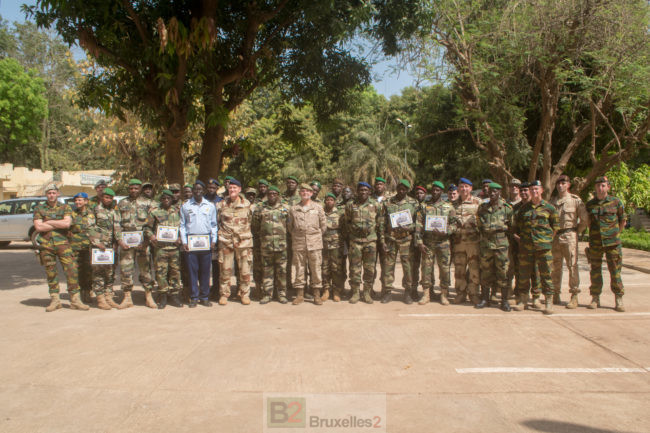 Renovation. The premises of the human resources department have been renovated, thus improving the working conditions and the efficiency of the General Directorate of the National Police, specifies EUCAP Sahel Niger.
Crime scenes. "Scene freeze" training was held from Feb. 26 to March 2 for National Guard officers to prepare them to handle crime scenes, the mission says. EUCAP Sahel Mali. A training workshop on human rights for the Internal Security Forces was organized on 6 and 7 March by the capacity building mission EUCAP Sahel Mali, in collaboration with the Ministry of Security and Civil Protection.
Gendarmerie. The National Gendarmerie validated, on March 1, the 2018 action plan covering the framework and objectives of cooperation with EUCAP Sahel Mali. On the same day, 160 registers were handed over by the mission of the EU to the Directorate of Border Police in order to improve the recording of data on migratory flows.
Home. The General Prosecutor's Office received, on March 6, radio communication equipment, in order to improve the security of the premises, says the mission EUCAP Somalia.
Europe and Middle East
customs. THE chefs of EUBAM Moldova-Ukraine, the Ukrainian tax service and the Moldovan customs service met on 2 March to discuss, from a customs point of view, the management of the border between Ukraine and Moldova.
Domestic violence. A series of trainings, given by two Swedish judges, were given to Palestinian lawyers in early March to better handle gender-based violence cases, the mission says EUPOL Copps.
(information compiled and formatted by Claire Boutry)