Let's not waste time doing a European google (Mariya Gabriel)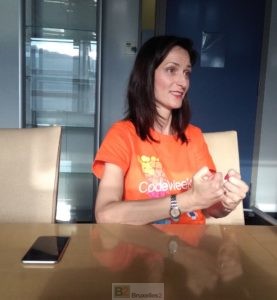 (B2) Aged 38, Mariya Gabriel was propelled into the European executive in July 2017 to replace her compatriot, the Bulgarian Kristalina Georgieva, appointed to the World Bank. In charge of the digital revolution, the youngest of the European Commission speaks perfect French, perfected at the Bordeaux Institute of Political Studies, where she also taught.
Attractive, intelligent, the youngest of the Commission seems very eager to leave a positive balance sheet. By denying the importance of the main tools held by American companies (Google, Facebook, Twitter), it forgets the strategic deal. The internet is not only a pipe and a content, but also a tool of power. By giving herself a very pragmatic objective taking into account reality, she admits having lost the battle. Which is a notable error on this ground. Not mastering the main tools condemns the Europeans to being auxiliaries, suppliers of niche technology whereas the deal will be imposed and given by the Americans, a generation ahead in terms of technology as well as marketing or services.
Looking at the giants like Google, Facebook or Amazon, do we have the impression that the Europeans have missed a march?
It's true. We are not leaders in platforms. For the first time, we have not been at the center of a technological revolution. But we retain leadership in the "invisible part" of the Internet: nanorobotics, security chips, automobiles...
Should we have a European Google?
We must stop wasting time copying what others have done. We should not seek to have a European Google or a European Netflix. We must rather focus on what is unique, what is innovative for the future. This is the time to fill the content [of the internet]. I am convinced that the future European champions are there. We must give them legal certainty, a perspective for our companies which are just waiting to grow. There is an awareness, a Momentum, that digital is a priority.
Does that mean having rules for everyone?
Sure. The law of the jungle is over. We really have to ensure a minimum level for everyone. As soon as there are services offered, there are responsibilities that are the same. We are not against these platforms, we are very aware of the role played, they have proven to be extremely successful companies. But we have values, we have rules to respect. No one can be above the law.
… including tax, especially for GAFA?
Yes it's clear. We have made it a principle to find a general approach at world level, with the OECD. But if nothing comes out, we will move on. We will table a legislative proposal in the spring of 2018.
You are also implementing a new package of cybersecurity measures. Do you consider cyberattacks to be a significant risk?
Yes. A cyber attack can cause more damage today than destruction by physical weapon. No Member State, no company can face it alone today. 80% of companies say they have suffered or may have had an attack. And we have four to five major incidents a year. The package that we proposed in September is to provide the European Union with a real agency to fight against cyber. We propose to double the staff, to double the budget. [This agency] will be responsible for giving certification in order to give everyone, companies, the certainty that the product they use has the sufficient level of security.
How can we react?
You have to have a coordination mechanism in the event of a large-scale attack. This is not obvious. We must not be in a reaction to an attack. But above all, we are aiming for the long term, by creating centers of competence, to attract experts, take advantage of their best practices, and make Europe a cyber hub. We have launched a pilot program launched in Horizon 2020 [the research program of the European Union]. The experts exist. the challenge is to show them that there is added value at European level and that they come to us. Our idea is to have an anti-cyber attack center in each Member State, 24 hours a day, 24 days a week. It is the dialogue and cooperation between Member States that is an added value.
Should we develop an offensive capacity?
It's very difficult to demonstrate where the attack is coming from. What's the point of suspecting someone if you don't have proof.
(Collected by Nicolas Gros-Verheyde)
Face-to-face interview at the Commissioner's offices at the Berlaymont, with an Austrian journalist on October 9, 2017