NGO Jugend Rettet ship forced to leave central Mediterranean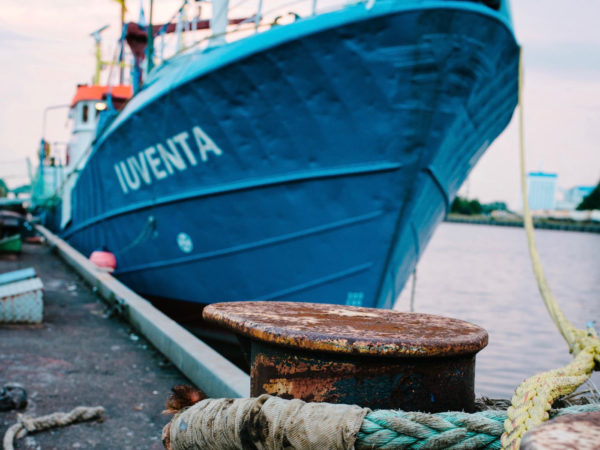 (B2) Italy entered the "Iuventa", Wednesday (August 3), a boat from the German NGO Jugend Rettet, sailing under the Dutch flag, suspected of having facilitated illegal immigration. After having " preventively placed under receivership in Lampedusa, the prosecutor Ambrogio Cartosio explained that " crew members of the "Iuventa" are suspected of having taken on board, at least twice, migrants escorted by Libyan traffickers and whose lives were not in danger ". The investigation suggests that the practice was " common ", but for reasons purely " humanitarian ».
A forced departure from the rescue zone
Allegations that caused amazement in the NGO. " Our ship is not confiscated. And our crew is not stopped. What happens is normal procedure. […] Our crew is [simply] interrogated by the authorities. the organization first tweeted (August 2).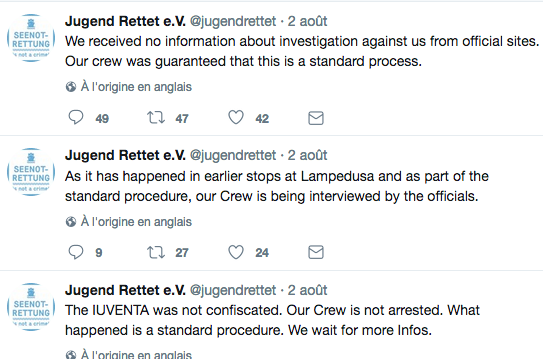 Before announcing (August 3) his departure from the area. " It is with a heavy heart that the 9th rotation observes its forced departure from Lampedusa and the central Mediterranean where we are sorely awaited. ».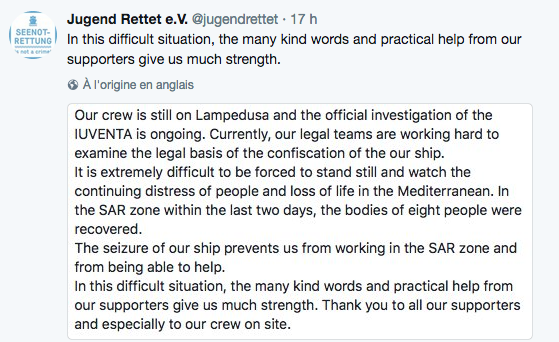 No signature of the code of conduct
Shortly before, Jugend Rettet had explained, in a communicated published on facebook on August 1 not wanting to sign the code of conduct imposed by the Italian authorities on sea rescue vessels operating in the central Mediterranean. " Our priority is the rescue of people in need. But that is not the priority of this code of conduct. […] Certain paragraphs would have forced us out of international maritime law in certain circumstances. Other paragraphs are in direct contradiction to the humanitarian principles on which our work is based..
(Leonor Hubaut with Nicolas Gros-Verheyde)
Read also our survey: NGOs complicit in smugglers in the Mediterranean: the file that caused pschitt?