Fast, efficient, well coordinated… A thumbs up for European civil protection. Rare!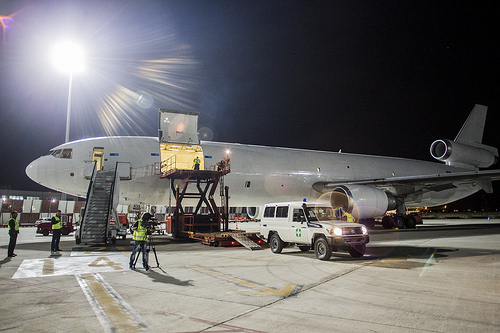 (B2) In a report published this Wednesday (January 18), the European Court of Auditors gives almost total satisfaction to the European Civil Protection Mechanism.
« EU emergency response to natural disasters and major epidemics is generally well coordinated » they indicate, « quickly triggered " and " effective ". She presents a real added value ».
It's rare enough to be reported … and underlined! Usually, the reports of this body are rather critical, even very critical.
Bosnia, Ebola, Nepal… good coordination of efforts

Looking closely at three interventions — the floods in Bosnia and Herzegovina (2014), the Ebola virus outbreak in West Africa (2014 to 2016) and the earthquake in Nepal (2015) — the auditors conclude that the management ensured by the Commission via its emergency response coordination center was generally effective ". The Union Civil Protection Mechanism has, " in general, was activated quickly ". And the EU civil protection teams have " helped to coordinate teams from Participating States in the field they judge. The good, early coordination between the "humanitarians" and the European External Action Service (EEAS) and its delegations around the world is also underlined.
A real added value

Coordination between Commission services, as well as with other EU and non-EU bodies, has been opened ". The Commission has indeed respected the lead role of the United Nations and took steps to ensure a smooth transition to the post-disaster recovery phase ". For Hans Gustaf Wessberg, the main author of the report, this satisfaction - not very commonplace in the documents of the Court of Auditors -, makes it possible to draw up a more political observation. " The coordination role played by the Commission and its 24-hour crisis center are good examples of the added value of European cooperation.
Some points to improve
However, the report raises five points that deserve to be improved:
• See how to save more time during the early stages of disasters, as well as during the selection and deployment of EU civil protection teams.
• Strengthen the communication and information platform on disasters in order to obtain a better overview of the assistance provided and requested.
• Reinforce the coordination on the ground by improving the reports, (…) by associating more the EU delegations.
• Improve reporting and strengthen accountability by automating the compilation of statistics and indicators.
• Develop relationships with the European Center for Disease Prevention and Control to see how to deploy medical experts outside the EU in the event of a public health emergency.
(Nicolas Gros-Verheyde)
Download the report French / English
Read our fact sheet on european civil protection mechanism