Turkish-flagged sailboat with migrants rescued off Leuca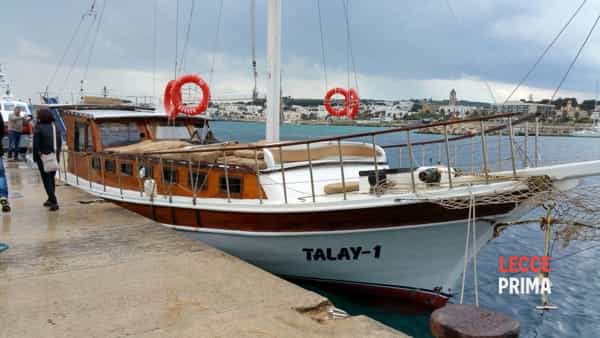 (BRUSSELS2) A sailboat flying the Turkish flag, the Talay 1, with 52 migrants on board, was rescued Thursday (May 4) by the Italian Coast Guard off Leuca — a port city located in the heel of Italy's 'boot', facing Albania and Greece.
Off Leuca a distress call
A call came in for help from the Coast Guard operations center, according to the italian press which recounts the case: We are in the middle of the sea, come save us ». Two launches from Gallipoli and Santa Maria de Leuca then came to the aid of the boat about 11 miles east of Capo di Leuca. It took some time, the sea being rough, before the coastguards could get on board, to then be able to tow the sailboat ashore.
50 people rescued, two smugglers arrested
The 52 people on board — 23 men, 8 women (including 3 pregnant) and 21 minors (including 7 children) — were recovered safe and sound and brought back to Italy at the Don Tonino Bello center in Otranto. They mainly come from Somalia, Syria, Pakistan and Afghanistan. Among them, two Georgians. They were quickly suspected of not being migrants but smugglers. The prosecutor of Lecce, the neighboring town has opened an investigation, according to the local daily LeccePrima. A 43-year-old man named David Barkaia, was arrested. He would have concluded the rental contract for the boat. The other, a young man of 23, supposed to be his accomplice, was expelled.

Two ships rescued in the last four months
Is this arrival an epiphenomenon or the symptom of the opening of these famous "alternative paths" mentioned from time to time? For our Italian colleagues, the arrival in these parts remains quite episodic. The last known episode dates back to March 31. That day a boat carrying around 20 migrants of various nationalities was rescued by the Guardia di Finanza and Carabinieri. Two traffickers had been arrested - an Albanian and a Greek, as well as a Syrian in possession of false documents. Another boat had been located in January. The adventure had ended tragically with the death of a Nigerian woman.
(NGV)