Tensions in Georgia. One dead on the demarcation line with Abkhazia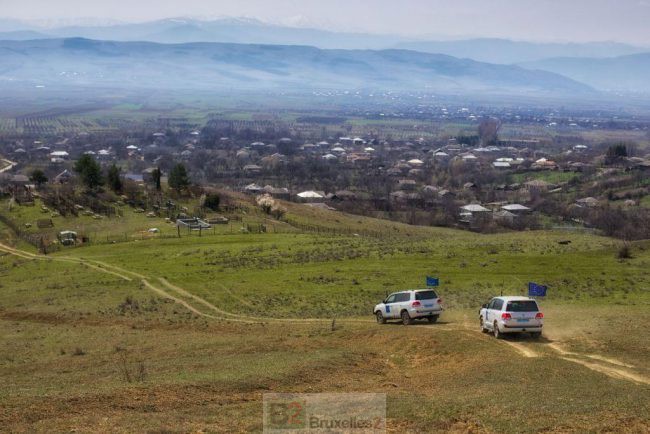 (BRUSSELS2) The situation in Georgia has become tense after the deadly incident, which occurred along the "administrative line" between Abkhazia and Georgia. A man is indeed dead on Thursday (May 19) after a shooting at the Khurcha-Nabakevi crossing point (Zugdidi district).
Shooting at the demarcation line
The information was confirmed by European observers from the EUMM Georgia observation mission. According to local witnesses contacted by European observers, it was the armed security forces of Abkhazia who fired. They would have crossed the bridge which serves as a crossing point, in the direction of the territory administered by Tbilisi.
Information gathering in progress

European observers are on site. It's mainly about monitoring the situation, collecting information and then " to inform EU institutions and Member States directly ". " The mission will remain on the ground as long as necessary " one specifies at the HQ of the mission in Tbilisi.
The convening of the preventive mechanism is urgent

EUMM also asks " urges that in-depth investigations be carried out as soon as possible ". And she calls on all parties to avoid any action that could escalate the situation. European observers have pointed out additional urgency »From« the rapid recovery of Gali's Incident Prevention and Response Mechanism (IPRM) (see box).

Russian responsibility
The Georgian Foreign Minister denounced, in a communicated, a " criminal act " whose " full responsibility rests with the Russian Federation (which has) the power of effective control over the region". The incident shows "the need to establish international security mechanisms He said.

A noticeable increase in tension for several weeks

The participants of the 66th meeting of the Incident Prevention and Response Mechanism (IPRM) in Ergneti (see box), had already expressed a few days ago (May 16) their concern about growing tension. They noted in particular for the April period a " huge increase "of the number of detentions, especially" compared to the relatively small number "of arrest during the" previous period ", including during the Easter holidays. In February, Kęstutis Jankauskas, the head of the European mission recalled that " tensions are frequent and EUMM has a key role in preventing this from escalating". Read : European presence in Georgia not superfluous (Jankauskas)

(Leonor Hubaut)
---
The incident prevention and resolution mechanism (IPRM)
Created in 2009, within the framework of the international discussions in Geneva, this mechanism allows the actors present (UN, OSCE and EUMM) to study the daily problems of the population of the occupied zones in Abkhazia and South Ossetia, to act as mediator and try to find solutions. It embraces all the effects of conflict. This can range from concrete problems - access to fields, irrigation... - to the more sensitive problems of detention of people caught across the demarcation lines. The IPRM currently meets only in Ergneti, on the demarcation line with South Ossetia. The meetings organized in Gali, in the northwest of Georgia, on the demarcation line with Abkhazia, have not been organized since 2014.
---
Read also: