Mogherini soon in Tripoli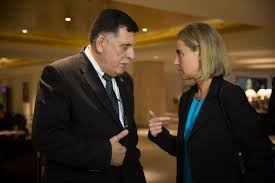 (B2) Several European ministers have already made the trip to Tripoli: the Italian Gentiloni, the Frenchman Ayrault and his German sidekick Steinmeier and the Briton Hammond, etc. Not to mention the ambassadors. Tripoli thus becomes the fashionable place of crisis, the place "to be". Certainly with good reason. Because it is a question of showing all the support for the new Libyan government, the only one recognized by the international community.
And Mogherini?
This is the question that B2 asked the head of European diplomacy at the last meeting of foreign ministers (1). The High Representative of the EU announced hope to travel to Tripoli soon..." refusing to give a more precise date. "You will understand why. »
I want a substantial visit
With a (slightly ironic) smile, she added: "It will not be just a symbolic or political visit. I want to visit the government with fairly concrete projects to discuss and announce. I have already met Sarraj twice, outside Europe, in Tunis and in Egypt. I think I was the first to meet the Presidential Council. The symbolic visits have already taken place. (Now) my visit must be of a substantial nature. »
NB: what may appear to some as a certain delay has, in fact, several explanations. On the one hand, the High Representative was on the Cavour 10 days ago - to commemorate one year since the tragic sinking and the setting up of operation EUNAVFOR MED / Sophia by the Europeans - then was in Iran, a visit long-planned. On the other hand, unlike the Member States or the UN or NATO (2), the High Representative of the EU does not have her own means (plane in particular), she must rest for that on the means of others.
(Nicolas Gros-Verheyde)
(1) Question to which she answered (need it be specified) in near-perfect French. In a few months, the High Representative of the EU, who is more at ease, has made notable progress (with lessons in support, according to our information). Which is proof that bilingualism (+ Italian, her native language and the Spanish she speaks), is quite possible at European level with a very small effort.
(2) The UN has a charter contract with private planes, repainted in its white colours. While the Secretary General of NATO has - as much as possible - an aircraft loaned by the Belgian air force, on the basis of a provision agreement.