Europe donates 20 more vehicles to the OSCE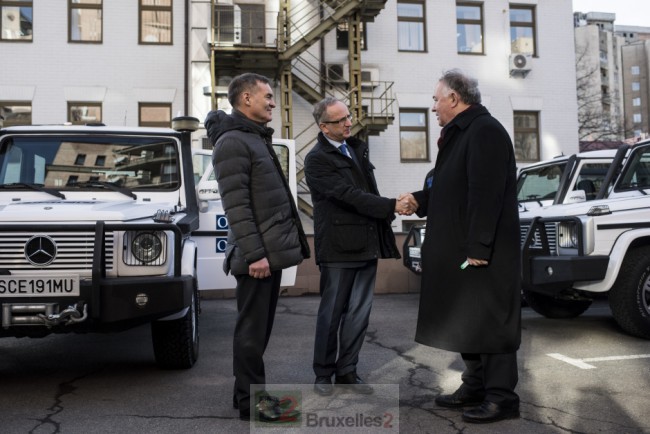 (B2) The OSCE Special Monitoring Mission in Ukraine (SMM) received 20 armored vehicles donated by the European Union (EU). Vehicles that were previously assigned to the EUPOL Afghanistan mission, the European Afghan police support mission which is currently in the withdrawal phase.
Allow observers to circulate safely
This donation was made official this Wednesday (February 3), during an official handover ceremony which took place near the Mission's headquarters in Kyiv. The 20 Mercedes G-type vehicles will be deployed for use by teams in the east of the country." in the next few days announces the OSCE. That " will allow more safe monitoring activities for observers, who work under unpredictable security conditions in the conflict zone », underlined Jan Tombinski, the head of the delegation (= ambassador) of the EU in Ukraine. They represent an estimated value of 685.000 euros in total.
The second donation made by the European Union
The OSCE has 188 armored and 132 unarmoured vehicles deployed across Ukraine. The European Union had already donated 24 vehicles a year ago.
NB: A way for the European Union to contribute to the surveillance mission in Ukraine, such as finding a second use for surplus or unused vehicles.
(NGV)