We must translate our minutes of silence into action (Mogherini)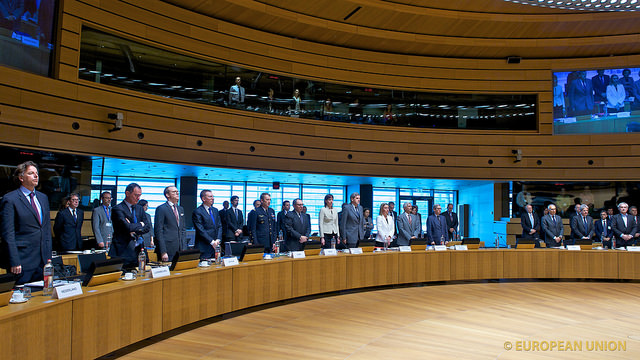 (BRUSSELS2) Federica Mogherini is the guest of my colleague from France 24, Caroline De Camaret and RFI, Dominique Baillard, from the program Ici L'Europe, broadcast this Friday (*). A very interesting interview because it is long and covers a number of subjects. Federica Mogherini has not spoken much so far in the French audiovisual media. And our colleagues from Rfi/F24 can rightly pride themselves on having achieved this.
Very clearly, the High Representative is setting the record straight on the EU's future military operation in the Mediterranean (see also: EU operation in the Mediterranean. True, false. To twist the neck of a few cuckoos). It also officially recognizes that solidarity between Europeans - the reception of refugees and migrants in Europe - has a role in an international (and Libyan) agreement in the fight against traffickers. She also has a fairly strong word: we must translate "our minutes of silence into decisions". Here is an extract from the complete verbatim that we publish on the Club.
A naval operation, part of the plan for Europe
« The naval operation is only part of a larger plan. The priority is to save lives. (But), we (also) have to fight the traffickers, the criminal networks that make money from people trying to reach Europe. » She doesn't want to focus on destroying ships. "The urgency is to make it impossible for criminal networks to use the boats or the money they have to kill people at sea. " (...) " The majority of boats depart from Tripoli, Misrata, the west of the country. Fighting traffickers is a European responsibility, but above all it is a Libyan responsibility.
Translating our minutes of silence into action
« It is important that Europe understands that this is not a problem of certain countries but a European problem. People who leave Eritrea, Syria... do not come to Italy, Greece or Malta but come to Europe. It is as Europeans that we must respond to this drama, humanitarian but also security. (...) Sharing responsibility is solidarity between Europeans and this is also what gives credibility, vis-à-vis the rest of the international community, to say: we welcome each other, we also need to work together in the fight against criminal organisations. I think, I hope that all the Member States will, in June, adopt the plan put on the table by the Commission, a very advanced, I would say almost revolutionary plan for sharing responsibility. It is in the interest of all Europeans to have better management of all immigrants and refugees. (...) » The « must be consistent and translate our minutes of silence into consistent political decisions underlines the High Representative about the migrant crisis.
(NGV)
(*) Broadcast at 16:40 p.m. on F24 and at 20:10 p.m. on RFI
Read more about the Club: Migrants, Libya, Daesh, Russia, Iran, Syria… I am optimistic otherwise I would do something else in life (Mogherini)