Croats and Serbs pass the baton in the Indian Ocean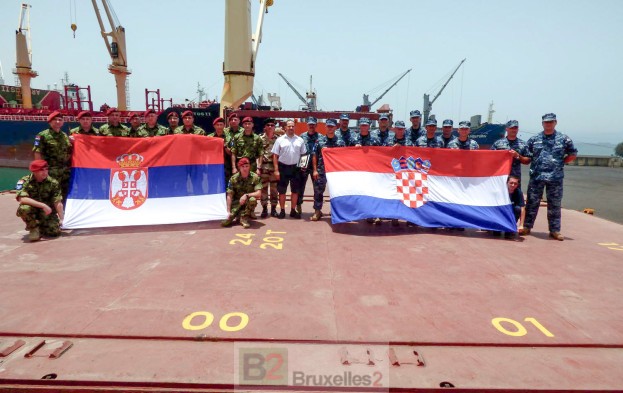 (BRUSSELS2) A maritime protection team from the Serbian army took over from the Croatian military in the anti-piracy protection of the World Food Program ship, the MSM Dourno.
A presence that becomes regular
The Serbs joined the naval force aneuropean union ti-piracy (EUNAVFOR) on 7 April. The Croats, who had provided protection on board in the previous 4 months, spent 100 days at sea and insured 14 escorts between Tanzania, Kenya, Somalia and Djibouti, allowing the supply of nearly 200.000 tons of humanitarian aid to Somalia. This is not the first time that the Serbs have taken part in the European operation. They had already been engaged in December 2013 (read: Serbian VPDs on watch on WFP boats).
A symbolic transfer
This gave rise to a beautiful series of symbolic photographs taken on the deck of the ship in Djibouti, during the ceremony of handing over the European pennant, in the presence of the various military representatives (Serbian, Croatian, and French). Almost 20 years ago, the armies of the two countries were still engaged in fierce combat, with Croatia launching an offensive in early May to resort to Slavonia occupied by federal (Serbian) forces.

A proven VPD device
Since December 2008, and the support by the European Union of the protection of the ships of the World Food Program, ensuring the food shuttle between Tanzania or Kenya and Somalia, no ship of WFP not'has been pirate says EUNAVFOR Atalanta HQ in Northwood. In the formula of maritime escort by a ship, and faced with the real risk of piracy, the Europeans quickly decided to use autonomous protection teams on board the ship (VPD or EPE), less greedy in equipment and men and just as effective.
Several countries have provided these VPDs
Armed, connected in real time by radio or satellite, and able to count on reinforcement within 24 hours, these teams were deployed in turn in "autonomous" mode (without offshore assistance by a ship), from April 2012: the Dutch inaugurating this mode of action followed by many countries (Maltese, Estonians, Lithuanians, Irish, etc.) for whom it was often a way of participating in the operation in the Indian Ocean without automatically having maritime means to deploy there.
(NGV)
Read also (on the conditions of engagement, etc.): Dutch marines pioneer the concept of aVPD