The Russian fighter plays on the nerves of US sailors. Unless it's the opposite. The good old times…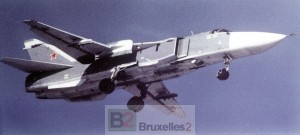 (BRUSSELS2) A Russian attack aircraft repeatedly flew near the USS Donald Cook in international waters in the Black Sea last Friday (April 12), a Pentagon spokesman revealed today.
The Russian plane, a Sukhoi Su-24 (Fencer according to NATO code), a tactical bomber, which was unarmed and flying with another plane of the same type, repeatedly flew over the US Navy ship. " The Russian aircraft made a total of 12 passes explained Colonel Steve Warren. " He stayed at a fairly high altitude. But approached within about 900 yards of the ship. "Russian Sukhoi" did not respond to several queries and warnings from Donald Cook. The event ended without incident after approximately 90 minutes ". The USS Cook was never in danger, however, said the American officer. (see the technical sheet of the Su-24 on the RiaNovosti website).
Americans do not believe in an improvised act. "I would find it hard to believe that the two Russian pilots, themselves, would have chosen to take such an action", Warren said. " We have seen the Russians conduct themselves unprofessionally and in violation of international norms in Ukraine for several months, and these continued acts of provocation and unprofessionalism do nothing to defuse the situation in Ukraine. »
(Maj) Arrived in the Black Sea on April 10, the destroyer, of the Arleigh Burke class, must make a stopover in Constanza, Romania. On the Russian side, we are worried about the presence of this ship, equipped with the Aegis combat system and Tomahawk missiles. And Turkey has been accused in particular of violating the Montreux Convention which limits the duration of warships in this semi-closed sea to 21 days. Moscow blames in particular the prolonged duration in the North Sea of ​​the American frigate USS Taylor because of a "damaged propeller". An accusation that Ankara refutes, through the voice of its Minister of Foreign Affairs, Ahmet Davutoğlu.
Read also: A French spy ship on a trip in the Black Sea. He is not the only one !