A dhow released in the Gulf. The relieved captain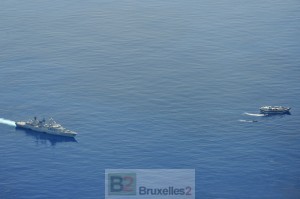 (BRUSSELS2) A dhow, captured by pirates, has just been released without firing a shot, this Saturday (April 26), we learned yesterday. If we believe the HQ of Atalanta, the European anti-piracy operation, in Northwood, the captain of a dhow and his crew who were in the Indian Ocean got hot. Six armed pirates, who had held the ship and crew hostage for 14 days, fled the scene of the crime after the arrival of a Spanish maritime patrol aircraft belonging to the EU Naval Air Force (EUNAVFOR) and before that of a fleet ship, the FGS Brandenburg.
The captain confirmed his ordeal to the soldiers of the FGS Brandenburg intervention team who came to free him. " I was forced to sail into the Gulf of Aden, where they (the pirates) planned to use the dhow as a "mother ship" to attack merchant ships at sea he told the military. The pirates however, before leaving the ship, took away some "souvenirs": " electronic equipment and other personal items of the crew ». For Rear Admiral Jürgen zur Mühlen, who commands the European fleet, " this event confirms that the threat of piracy is still very real".
We are awaiting the arrest of the perpetrators, which will normally not take long...

Comments : we could add that this event also shows how much the statistics anti-piracy are not entirely accurate. We thus learn, incidentally, that a dhow was captured 14 days ago and 14 sailors held hostage. This event does not appear in the European statistics which always show a 0 in terms of capture, whereas it should be replaced by a "1". We should begin to seriously review these statistics which are beginning to resemble the Greek deficit figures before 2008. A decoy!
(NGV)