The freezing of the assets of Yanoucovitch and co is now! (Update)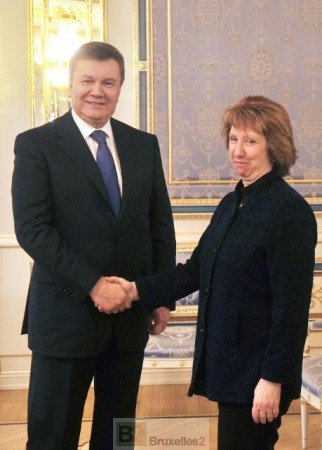 (BRUSSELS2) The question of freezing Yanukovych's assets was discussed last week by the "28". The European diplomatic service (EEAS), led by Catherine Ashton, was not very keen on these sanctions. And most foreign ministers, either. They had rather agreed on a gradual approach towards a Head of State still in power.
Put an end to reluctance, times have changed
Today, the situation has changed and requires a quick perspective. Yanukovych was stripped of his responsibilities by the Ukrainian parliament. He's on the run, or at least in a place that hasn't been made public. His prevarications are now coming to light. And Ukraine is announced as on the verge of bankruptcy. A measure is needed: freezing the assets of Yanukovych and some of his relatives, including some oligarchs.
Prevention effect
The effect is not to punish but to avoid the former president's power to harm. It is also to "freeze" - the word is quite appropriate - its assets pending a possible requisition from the Ukrainian authorities. This money from his accounts has apparently not been earned quite clearly and belongs more clearly to the Ukrainian budget than to a few men. While waiting for legal proceedings to clarify the origin of the funds and possibly pronounce their requisition, a precautionary measure is essential: to prevent the flight of these capitals and assets to other countries. If you haven't already...
useful for democracy
The European Union has a powerful weapon there, which had already been used during the Arab Spring, with regard to the personal fortunes of Mubarak or Ben Ali. It should not hesitate to use it or use the counter-productive effect of such a measure as an excuse to do nothing. Viktor Yanukovych may have been defeated. He's not out of the race yet. And Ukrainian "democracy" is still very fragile.
(Updated Feb. 24, 14 p.m.) Yanoucovitch on the blacklist: no political fiction please!
Questioned by B2, during the midday point, the spokesperson for the European Commission indicated that the work to finalize the list of people " responsible for the repression "and whose assets will be frozen" is in progress ". " The decision will be taken in the light of the events on the spot (...) And we have seen that there are developments in the situation on the spot ", he added. When I asked whether the Commission recommended putting former President "Yanukovych" on the list as a possible European arrest warrant against him, he remained more evasive. Refusing to do political fiction ", he preferred to stick with a position:" We await the outcome of Catherine Ashton's visit ", the High Representative of the EU, " who is in Kyiv » and is due to meet with several Ukrainian officials.