Last training in Uganda for EUTM Somalia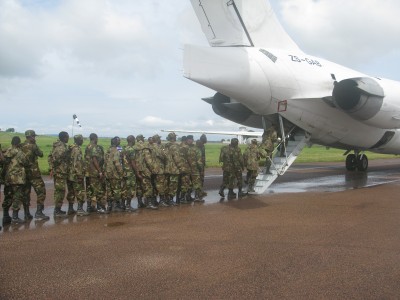 (BRUSSELS2) The European training mission of the Somali army (EUTM Somalia) will close part of its activities in Uganda. The last Somali "trainees" left the Bihanga camp (in western Uganda), via Entebbe airport, on a plane hired from a South African company (*). Direction: Somalia where they will be incorporated, again, into the Somali National Armed Forces.
This last group of 138 soldiers received training in company command, leadership, combat engineering, military and civilian intelligence. In three years, 3600 soldiers have thus been trained by European instructors at the Bihanga training camp (western Uganda). These soldiers will participate in improving the security situation in the capital Mogadishu and its surrounding regions.
From 2014, the headquarters of the mission and training activities are expected to move to Mogadishu.
(*) A MacDonnell Douglas MD82 which cut its teeth at TWA and American Airlines.
Read also:
The Spaniards ready to take over at the head of EUTM Somalia