Russian corruption, a European issue (Navalny)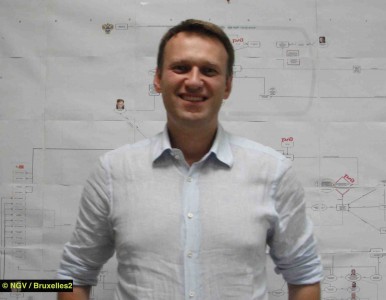 (BRUSSELS2 to Moscow) A small office in the Russian capital. You enter after the traditional passage in front of a rather good-natured guard. In front, the (traditional) plainclothes police car keeps watch. On the first floor, an armored door. And inside, at the end of the corridor, a room where about fifteen young people are seated, in front of computers. Those who knew their illustrious predecessors from Solidarity or the Belarusian opposition in Poland will not be out of place. Same atmosphere, hesitating between a certain concentration and a relaxed atmosphere. What is striking here is the youth and the use of modern means of rapid communication (laptops, blogs, social networks).
In his office, flanked by his three advisers, Alexey Navalny, knows that he must face charges for embezzlement and that it is a question of not giving arms to power. So he weighs each of his answers that he gives to the three journalists present (Die Welt, De Morgen and B2), refusing too political questions and preferring to concentrate on his favorite subject: the fight against corruption.
Arrest or die…for those fighting corruption
Navalny does not know what sentence he will collect: dismissal (barely 1% of the sentences pronounced in Russia, according to a corresponding colleague in Moscow), sentence firm or under suspension… You know – he adds – a little fatalistic, they can imprison me at any time, for my activities. (…) For all politicians it's a bit of a routine to be arrested. " Corn " My situation is a little better in this sense He adds. " I have a certain fame, which protects me. So it's a little less easy to stop. In some regions, the situation is worse for those who fight corruption, they can be threatened, beaten, arrested. In the Caucasus it is more dangerous, many people have been killed ».
A new way of doing politics
This fight against corruption is a new way of politics. " Many people understood that our activity was not only to fight against corruption but also a new way of doing politics. » He thus belies a certain weariness " It is not true that people are not interested in politics. But they are not interested in participating in elections where the stakes are made in advance. This is what is discouraging. »
The pattern of corruption contaminating Europe
Behind Navalny, a map illustrating the links of a real empire of corruption which starts from those close to Putin and extends its ramifications to Western Europe: Cyprus and the Côte d'Azur in particular are privileged targets. At the head of this empire, the head of the SAO "Russian Railways" Vladimir Yakunin, a very close friend of Putin. " It's shocking, Yakunin constantly proclaims his Orthodox patriotism, blames those who are oriented towards the West, … and he himself invests abroad under more than questionable conditions. This situation is perfectly known to the power which closes its eyes according to him. " The services are fully aware of the situation. And Putin too. But they are satisfied with this situation. Putin knows well that, without corruption, he will not be able to govern the country, serve his friends. »
Putin's Game
Vladimir Putin is pretty smart. He keeps repeating that corruption in Russia is not abnormal compared to what exists in other countries. How long can this last? " as long as people will bear it". However, he believes that may change. He, his experts, and young, combative, have proposals to spare. " We have drafted bills". But, for the moment, none has caught the attention of power
European laissez-faire?
Faced with this presence, Europe has a rather lax attitude, according to him. " It is quite discouraging that Europe does not pay attention to investments. We have all the evidence. They use the banks, the European financial system… We have contacted the European Central Bank, Europol,… For the moment, no response". Even in the United Kingdom, caution remains the rule when faced with this type of file. The British " prefer to focus on corrupting their businesses. »
An underestimated risk for the safety
Why ? " For political reasons. Nobody wants to have a problem with Putin. Everyone knows he's a "bad guy". But everyone says it's better to have a deal with Putin than a strange guy. "This attitude is" a mistake for Navalny. European governments must understand that Russian corruption is not not just a Russian domestic problem but is exported to Western countries it can disrupt financial markets, European banks; that it also constitutes a threat to security" with ramifications in arms trafficking and even terrorism.