Discreet reaction after Putin's visit to Abkhazia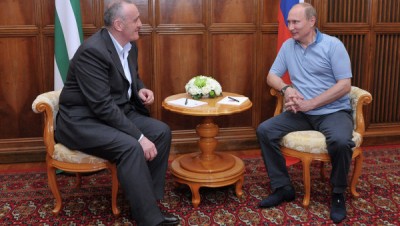 (BRUSSELS2) The European Union reacted as discreetly as possible to the visit of Russian President Vladimir Putin to Abkhazia, this secessionist region of Georgia, which since 1994 has escaped the authority of Tbilisi. It was the EU delegation in Georgia which delicately protested in a statement sent to the press stressing that this visit is "not not compatible with the principles of sovereignty and territorial integrity ". The delegation also recalls the importance that the European Union attaches to " the peaceful resolution of conflicts in the region and calls for a strong commitment from all parties concerned (*).
Russian support will continue
Vladimir Putin traveled to Pitsunda on Sunday (August 25) where he met his Abkhaz "counterpart" Alexander Ankvab, according to the agency Ria Novosti. Officially, this is a "working visit". " The two leaders discussed issues of bilateral cooperation from the perspective of their countries' interests ". The Russian President assured Abkhazia, like South Ossetia, of continued support and assistance. It should be noted that this is not the first visit by the Russian leader since the recognition of the independence of the two former Georgian provinces (Abkhazia and South Ossetia) at the end of August 2008. He had indeed visited in August 2009 in Abkhazia, thereby celebrating the first anniversary of Russian intervention in the region. The holding of the Winter Olympics in Sochi, at the beginning of 2014, very close to the Abkhaz border, is undoubtedly not unrelated to this new visit.
(*) The Delegations recalls that the EU does not consider these visits compatible with the principles of sovereignty and territorial integrity of states. The Delegation reiterates EU's firm support for Georgia's sovereignty and territorial integrity within its internationally recognized borders. The Delegation also underlines the importance attached by the EU to a peaceful conflict resolution in the region and calls for strong commitment by all concerned parties in this regard.