The "jonjoli" prevented from working near Ossetia. Abkhazia becomes a real border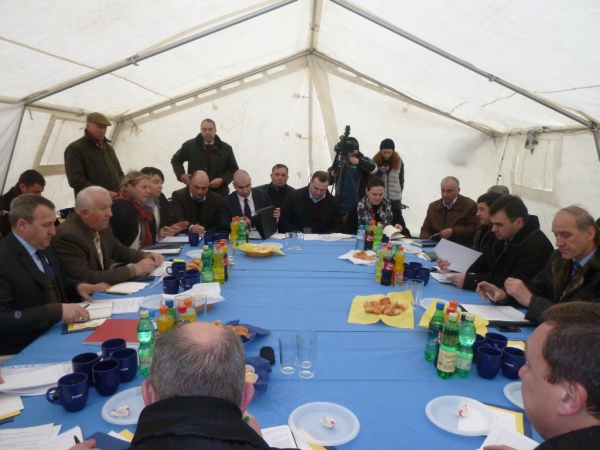 (BRUSSELS2) One might think that the situation in Georgia calmed down, nearly 5 years after the Russian intervention in South Ossetia. It's a decoy. Georgia has certainly disappeared from our media screens. But, near the administrative line with South Ossetia, like Abkhazia, European observers from EUMM Georgia are still there. And the situation is not really improving. Recent incidents bear this out.
The "Jonjoli" prevented from doing their job
Crossing the "administrative line" of South Ossetia is still difficult, preventing farmers or residents from living normally on both sides. Local media thus revealed that, at the beginning of May, more than 20 Georgian citizens were detained on the South Ossetian side, the majority of them were people going to get "jonjoli", an ingredient used to make the marinade. 11 people detained in Ossetia have just been released on Wednesday (8 May), thanks to contacts developed between Tbilisi and Tskhinvali.
Arrests, detentions, releases punctuate life on the side of Ossetia
On the side of European observers, we very officially announce, in a press release, " concern about the increase in detentions ". Admittedly, the EUMM mission was delighted with the " substantial release of detainees by Tskhinvali (South Ossetia). But she also recalled that " restricting freedom of movement directly affects the livelihoods of the local population ". The mission thus promises to continue to follow closely (this) matter within the framework of its mandate". A subject which is on the agenda, on a permanent basis, during the monthly meetings in Ergneti of the Incident Prevention and Response Mechanism (IPRM), a mechanism co-hosted by the EUMM and the OSCE.
Tense situation near Abkhazia
With Abkhazia, relations are difficult. They are even frozen. The incident prevention system (IPRM) such as joint meetings and missions no longer really work. EUMM Head of Mission, Polish Andrzej Tyszkiewicz, said "persona non grata" by the Sokhumi authorities since spring 2012. And the time for discreet visits to Sokhoumi seems to be over. The line is increasingly becoming a border, manned by Russian border guards and special forces. The organization of the 2014 Olympics winter in Sochi (which is located on the Black Sea a few km from Abkhazia) is undoubtedly not unrelated to this hardening. But, beyond this event, the Russians who financially support the Abkhazian government intend consolidate their presence in an area they consider strategic, both economically and militarily (naval and land base).
Read also:
Read on B2: