(BRUSSELS2) Clearly, we save. The watchword is valid across the Rhine as everywhere in Europe. Defense Minister Thomas de Maizière thus sent a letter to the Defense Committee of the Bundestag to indicate the planned reductions in equipment. All weapons seem affected by these measures, a summary of which is published in the German press. Today, the minister met with manufacturers to discuss compensation measures with them, particularly for export.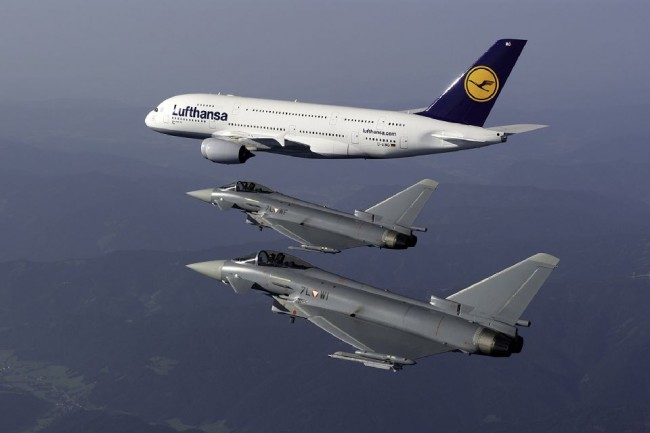 Equipment falls
The Luftwaffe will hit only 140 Euro Fighter instead of the planned 177, i.e. 37 devices less. Bad news for the European consortium (EADS / BAE in particular) which builds this plane because it comes after the British announcement of a drop in orders (from 232 to 160) and Italian (96 instead of 121); but which had been foreseeable for at least a year (1).
The Air Force will only have to rely on 60 Transall transport planes instead of the 80 in stock (some of which are unusable). And should not garner 40 new A400M aircraft instead of 60. A reduction which corresponds to the reduction of 7 aircraft bitterly negotiated with the other European partners, in particular France and the United Kingdom (orders transformed into options), to which are added the resale of 13 aircraft to third countries.
Helicopters are no better off with 40 Tiger gunships instead of the planned 80 and 80 NH90 transport helicopters (instead of 122).
On the land side, the same reduction: 225 Leopard tanks are planned instead of 350; and 350 Puma instead of 410. In exchange, the ministry could order a few more vehicles Boxer (272 were planned).
A more concentrated army
Make no mistake, it's not just a reduction in orders but a global overhaul of the army that will be more collected. An "adjustment" which is therefore part of a broader framework of suspension of conscription, of professionalization. " The Bundeswehr must become smaller and more efficient. It will be more focused on functions like operations, while it is greatly reduced explains the Minister (Die Bundeswehr soll kleiner und effizienter werden. Sie wird stärker auf ihre Aufgaben als Einsatzarmee ausgerichtet, gleichzeitig wird sie stark verkleinert.). 6200 soldier posts will be cut, 3000 civil servant posts and an as yet unspecified number of civilians.
Accompanying measures
These restrictions are accompanied by measures intended to make both the career in the Bundeswehr more attractive, for newcomers, and more interesting for the "old", early retirement. Civil servants over the age of 55 may take early retirement. While soldiers over the age of 40 who take early retirement (or choose to do so) will be able to obtain a fixed tax exemption of €5.000 for each year taken before the age limit (BS'Flex system). eurofighter
Read also: Combat aircraft or helicopters, Europe must choose
Download the Ministry document (in German): B2 docs