Private guards or marines against pirates? The Netherlands and Denmark are considering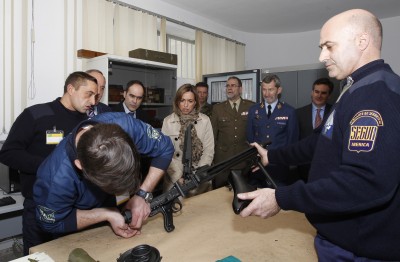 Faced with piracy which is increasingly threatening merchant ships in the Indian Ocean, European governments seem determined to do what they did not want a year ago: place soldiers or allow them to embark properly trained private guards, following the example set by the French and Spanish on board their fishing vessels.
Dutch Marines aboard merchant ships?

The Dutch government is studying the presence of Marines on board merchant ships. Defense Minister Hans Hillen confirmed this recently, notably during the informal meeting of defense ministers in Budapest on 25 February. A negotiation must begin on this subject with the shipowners.
… or German policemen
The question is also topical in Germany. But, in this country, the situation is more delicate from a legal and constitutional point of view, even for the presence of private guards. On the proposal of the maritime coordinator of the federal government, Hans-Joachim Otto (of the liberal FDP party), the ministries of Foreign Affairs and Defense have studied the possibility of German ships embarking federal police officers or Marines. The mandate of Operation Atalanta would be expanded for this purpose. However, in a full year it would cost about 60 million euros, according to our (charming) Financial Times Germany.
A plan under study in Denmark with private guards
The Danish government is more advanced. He must present, this week, a global plan to fight against pirates. It will meet on Tuesday for this purpose. And it could pave the way for armed guards on board red-and-white-flagged ships. Attendance currently prohibited. "We are open to the question of allowing armed agents from private security companies on board ships, which are particularly at risk", Foreign Minister Lene Espersen told the newspaper Berlingske. The Danish government is under pressure. Several ships belonging to Danish shipowners or flying the national flag have been attacked in recent months. There are currently 9 Danish hostages in the hands of the pirates (2 sailors from the cargo ship Leopard and 7 yachtsmen including 3 teenagers). The shipowners' association supports the presence of Danish soldiers on board. But so far, the Kingdom's defense minister, Gitte Lillelund Bech, has refused to put in Danish soldiers. In the absence of private, professional guards, specially trained for this purpose.
The Spanish experience
The Spanish example – of the use of private guards on Spanish fishing vessels – comes to mind. The Minister of Defense, Carme Chacón, was also, on Wednesday, at the technological institute 'La Marañosa' (near Madrid) to commemorate the first year of taking training of security agents are trained at the Technological Institute 'La Marañosa. In this training cycle, the 12 officers who are trained have access to military facilities, including a 75-meter rifle shooting range and a 700-meter rifle and machine gun shooting gallery.