Conversation with Herman Van Rompuy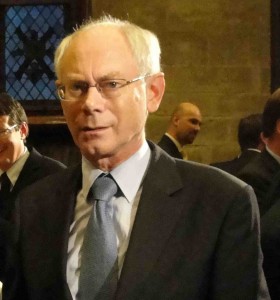 (BRUSSELS2) (In Ghent) The informal meeting of Defense Ministers therefore opened in Ghent, with Herman Van Rompuy, the President of the European Council, in the role of guest star. Before the start of dinner, we were able to chat for a few minutes. The Bishop of Ghent with whom Herman was discussing very obligingly gave way to me. Finally, motto, so to speak. Because Herman is known to be tight-lipped (with journalists).
- A small question ? " No, I'm not here to talk he replies with a smile. - Answers then? (I asked). Herman no longer answers, he smiles, as if to say: I answered you. – Any thoughts then? How do you see Defense Europe? (He makes up his mind.) Yes. There are several questions. We have to solve the problem with NATO, for example. This is a problem for cooperation between those who participate in the EU, those who participate in NATO. We must regulate all our relations, to be more effective on the ground. »
– How do you see the future of defense Europe, given the crisis? " It should be an opportunity. The crisis could allow us to move forward to do more together "...
– For the moment, we do not feel a great appetite from the Member States? " Belgium already cooperates closely with the Netherlands on frigates and F16s. There are also other cooperations. But it's true it's slow. We have had the Eurocorps for 15 years, for example… It will take time but it is the beginning of the process » (Herman leaves me, he is going to give his speech)
(Nicolas Gros-Verheyde)