USS Nicholas captures 5 pirates off Seychelles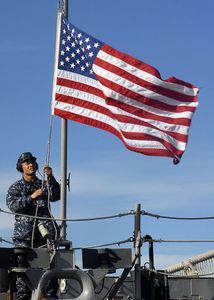 (BRUSSELS2) The American ship USS Nicholas (FFG 47) captured 5 suspected pirates on Thursday, April 1, off the Seychelles announced the American command for Africa (Africom). Exchanges of fire took place before the arrest.
It was west of the Seychelles, in international waters, that the USS Nicholas reported, around 0:30 a.m. local time, shots from a suspicious skiff. The American soldiers responded and began the pursuit until the skiff stopped. . At 2 a.m., reports Africom HQ, the anti-missile frigate's boarding party seized three men, along with ammunition and fuel. Everyone was repatriated to the ship. The skiff was sunk at 00:3 a.m. A second pirate ship (the mother ship) with 00 suspects on board was also captured and the mother ship confiscated.
The 5 suspects were placed aboard the Nicholas for questioning and to determine the action to be taken. The USS Nicholas is part of the US 6th Fleet and is one of the components of the naval force supporting AFRICOM.
(NVP)