Danes arrest 10 pirate suspects off Somalia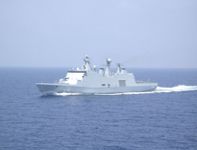 (B2) A dozen people, suspected of piracy, were arrested by Danish forces cruising off the coast of Somalia, and brought this evening on board the Absalon, the command ship of the Danish fleet (*). This is the second arrest of pirates in this area, in less than 48 hours, after the arrest by the French forces of six pirates during an action by the marine commandos (see the excellent blog of JD Merchet which recounts this last operation in detail).
Denmark took command on Monday of Combined Task Force 150, the anti-terrorist coalition, which crosses the Gulf of Aden and the Indian Ocean, between Africa and the Arabian Peninsula, until to January 2009.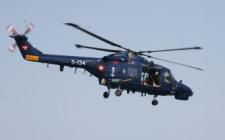 In the afternoon, two suspicious boats had been spotted by helicopter and boarded. On board, the soldiers found light weapons and RPG rockets that could have been used to attack merchant ships, according to a communicated Danish forces.
A few days earlier, on September 7, the Absalon had been called to the rescue by a merchant ship, the "Front Voyager", pursued by several pirate ships. The distance – about 150 km – preventing him from intervening quickly, he had dispatched a helicopter. His arrival had scared off the pirates. Shortly after in the afternoon, another ship, the Buga Seroja Sato reported being pursued by four pirate ships, only 20 km this time from Absalon. By approaching at high speed, again, it allowed the escape of the pirates.
(NGV)
(credit: Danish Navy)
(*) Updated (September 24): the pirates have been freed by the Danish Navy. Strong suspicions focused on the detainees, suggesting that they were not simple fishermen but indeed pirates. The weapons and equipment held left no doubt. But according to maritime law – not flagrante delicto of pirates – and Danish law, it was not possible to keep them in detention. And it was "not possible either to transfer the detainees to countries in the region or to other nations participating in CTF 150" announced, on September 24, the Department of Defense. Photographs and fingerprints of the ten people concerned were taken before the release.