(B2) The Czech parliament today (27.10) approved the deployment of Czech troops to fight against terrorism in the Sahel, alongside the French operation Barkhane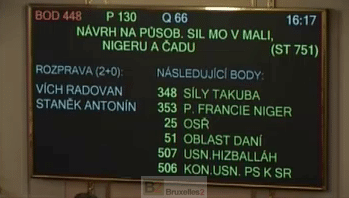 60 soldiers
The Czechs will come with a contingent of 60 soldiers in the Takuba Task Force. As expected! (read our paper from almost a year ago : Plusieurs pays européens s'engagent ou songent à s'engager au Mali (Takuba).
Mali, Niger, Chad
They will mainly be deployed in Mali, but may also be present in Niger. Some officers will be at the French headquarters in Barkhane in N'Djamena, Chad. A two-year commitment: until 31 December 2022. At least! "This is good news," said Czech Defence Minister Lubomir Metnar. "I appreciate the responsible approach of all those who supported the mandate of our troops. »
Small delay linked to the coup ?
The Czechs were a little late in approving this participation, which had not been included in the mandate for operations in 2021 approved a few weeks ago. The situation on the ground in Mali, with an ongoing coup d'état, worried some Czech politicians. The transition set up in Bamako with a government partly composed of civilians, and the consent of the African Union and the European Union has helped to resolve the issue.
Takuba's full operational capacity: 2021 ?
They will not be alone. Apart from the Estonians, who were faithful from the beginning, the Swedes and even the Italians (read: Les Italiens entrent dans la task-force Takuba au Mali et se déploient dans le Golfe de Guinée) also said Yes. But overall the operation has fallen behind. Instead of a full deployment in the second half of 2020, it is more likely that it will take place in 2021 (read: L'opération Takuba prend du retard. 2021 plutôt que courant 2020).

(Nicolas Gros-Verheyde)